Today was our departure day. We spent a good portion of the morning packing our bags. We went to the AKL lobby to find a loooong line at the airline check-in desk. It actually took me 40 minutes to get checked-in. We also checked our carry-on luggage with bell services. Our ME bus was not scheduled to pick us up until 3:05. So we had 5 plus hours to kill before we had to depart.
We spent our time at the Kidani Village pool. We were there a few days before and really enjoyed it, so much so that we decided to go back and relax a bit.
One of things I was curious about was quick dining at Kidani Village. Many DVCers have been complaining about the lack of a counter service location at Kidani Village. It's understandable conisdering the size of the resort and the walk to Jambo House to eat at the Mara (Jambo's counter service location).
I knew the pool bar had some food offerings and the gift shop inside the lobby (Johari Treasures) had some quick food items as well; however, I discovered something else. A private dining option is available at the Maji pool bar.
Here's how it works.
Look for this phone and display at the Maji Pool Bar. Simply pick-up the phone and it will ring into the Sanaa kitchen. Make sure to reference your private dining number on your identifiable tent; in this case it's number 2.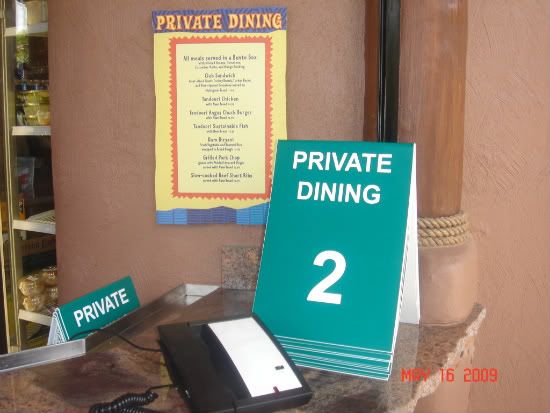 Simply place your order with the Cast Member. They will give you an approximate wait time, a total, and ask you how you will pay; cash, credit, or room charge. Take your number tent to your pool chair and wait for the server/delivery person to bring you the food.
Here are the menus for private dining. There is an adult menu and a kids menu to choose from. As you can see each adult entree comes with sides and a pudding dessert. Kids meals come with 2 sides and a dessert like chocolate cake.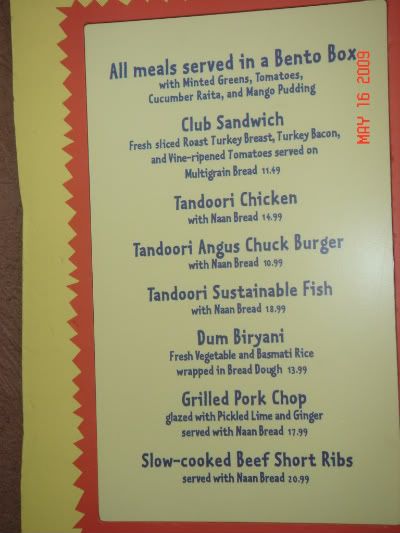 Something I found odd is the resort does not have a fryer so you will not find any fried foods on the private dining menu. This was according to the Cast Member I spoke to on the private dining telephone. I wasn't sure if it was because of the healthier alternatives Disney was incorporating or not.
We ordered a kids pizza for our daughter Anna. You should know when you order through the private dining line you are charged a $3 trip charge and an automatic 18% gratuity. The total for our daughters kids pizza, 2 sides, dessert, and a bottled water was $12.75. There was some confusion whether the drink was included with the meal. When we called private dining they said yes, but the bottled water never came out, so I received one at the pool bar at no cost. I think they are still working out some of the kinks to private dining in general.
The Maji pool bar also offers very limited quick foods you can order and receive from their refrigerator right away without going through private dining.
Here is there menu
Make sure to bring your resort refillable mug to the Kidani Village pool because they have a soda refilling station next to the bar. A nice feature in my opinion.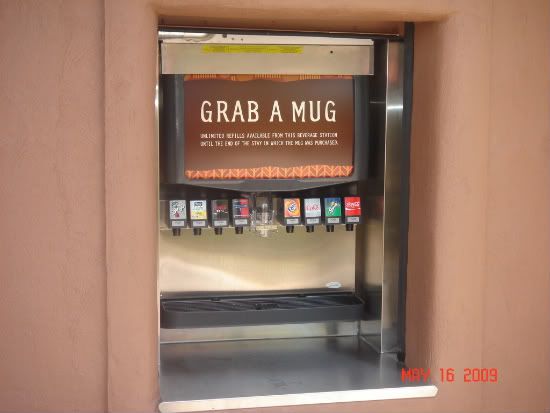 For those of you lucky enough to stay at this resort the Johari Treasures gift shop also has some quick cold food and breakfast options. There are cold cereals, breads and other breakfast fare to choose from. Potato chips and other afternoon or evening snacks are available as well.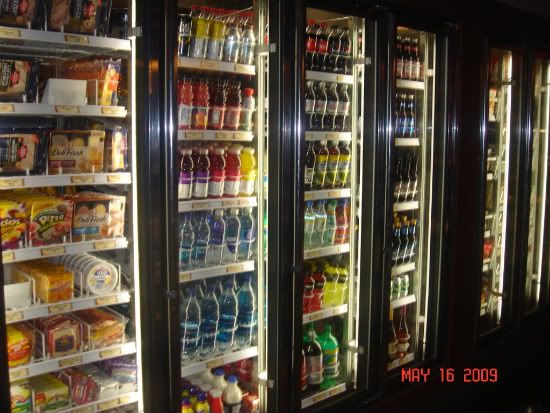 The gift shop also houses a refillable mug station for soda, coffee, and tea.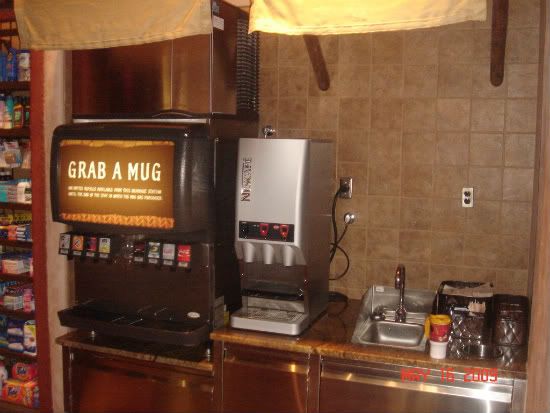 Despite the lack of a counter service restaurant at Kidani Village there are still options to choose from if you don't want to hike over to the Mara at Jambo House. Many DVCers have been sending suggestion letters to dvcmembersatisfactionteam@disneyvacationclub.com to voice their displeasure about the lack of a counter service location. If you feel Kidani Village needs a counter service location feel free to send them an email as well.