In chat last night it came up that I had visited the Walt Disney Studios in Burbank, California. Since there seemed to be interest in hearing about that experience, I will post the trip report I wrote for the Disneyland section of the DIS Boards here. I'll include the entire report as I think some people may find it interesting to see some DHS attractions as they appear at the Disneyland resort as well attempt to give those who've never visited the Disneyland resort an opportunity to see what
Walt Disney's
Magic Kingdom is all about. Please note that this trip took place originally in February 2008.
Ladies and gentlemen, Knights and Princesses, once again the time has come for you to gather round the warming glow of your computer, or maybe even your cell phone, settle in with a refreshing dessert of your choice and prepare to be amazed (or not) by yet another harrowing tale of my adventures in Los Angeles traffic as I regale you with the tales of my once in a lifetime trip. Now anybody who has read my prior trip report is probably asking themselves (and rightly so I might add) how yet another trip to Disneyland, especially considering that I was just there a little over six weeks ago can be a once in a lifetime trip. Should you choose to venture on with me dear reader, I will tell you why.
Inasmuch as this trip literally features a cast of thousands(or at least 28 by one count), I'll introduce you here to the key players.
:chewy: That's me. Mild mannered accountant/tax preparer by day, Jedi Knight looking for his Princess Aurora by night.
My friend Doug. I know him from the store that you'll hear more about as the report progresses. A huge Donald Duck fan and my roommate for this trip.
My friend Alec. I also know him from the store. A huge Stitch fan who is very well versed in the parks, especially Disneyland.
Cindy: The owner of the store. In many ways the story of her life is similar to Cinderella. Her passion for Disney is unrivaled and her knowledge of her customers taste is matched only by her kindness. An amazing woman who has battled cancer for years.
Rick: Cindy's husband. Has a great sense of humor. Because of Cindy's health struggles, Rick doesn't get to go on very many rides when he visits Disneyland.
Marty and Linda: An older couple who I also know through the store. Very fun people who have made friends with a few of the cast members at Disneyland. I must try doing that as often as I'm down here.
Prologue: A Cinderella Wedding
Having made it this far, you're now probably asking yourself why I'm talking about Cinderella wedding. Have I betrayed my beloved Princess Aurora? Never. But it is Cinderella that helped make this dream come true. Some of you may know that I am a Disney fine art collector, and I have acquired almost every piece in my fine art collection through my friend Cindy. She owns a Disneyana store near me called
Where The Magic Begins
. Cindy credits her faith in God for helping her make it through the incredible trials she faces with a small assist from her love of Disney. Well, Cindy has always had one dream. She wanted a Cinderella wedding. So, this past October, she and her husband renewed their wedding vows in grand Disney style. The backdrop was a humongous banner of Cinderella Castle at Walt Disney World and Cindy and her husband were dressed as Cinderella and Prince Charming. One of the guests at Cindy's wedding was none other than Disney artist Harrison Ellenshaw(the son of long time Disney artist Peter Ellenshaw) who did an event at her store earlier that day in connection with the wedding. As it turns out, one of Cindy's friends who could not make to the wedding that day is a former bigwig at the Walt Disney Company who now works for the fine art company that does most of the Disney fine art, including the pieces you see in the park art galleries. Unable to make it to the wedding, he promised Cindy to make it up to her. And so a few weeks later, he came to town and asked Cindy to invite some of her friends because he was going to take us all out to dinner. Little did any of us know what would take place that night.
Imagine if you will a gathering of about 20 Disney fans. We come from various walks of life, some young at heart, some still in high school, some married, some still looking for their true love, but all united by our love of Disney and our propensity to spend money on fine art and other assorted items of Disneyana. On this night as we all sat around enjoying a hearty meal and one another's company, the former Disney bigwig had an announcement to make. After toasting our friend Cindy, he informed us that he would like all of us to come down to Southern California to tour the facilities of the fine art company he now works for, and get a special tour of Disneyland. But that's not all. As part of this trip, we would not only get a special tour of Disneyland, but he would talk to some of former colleagues at the Walt Disney Company and get us a tour of a very special place, where legends walked the grounds, where the rooftops of London came to life, and the place where dreams are born. The Walt Disney Studios.
At about this time, I dropped my fork. I also had to pick my jaw up off the floor. I could not believe what I was hearing. I would get to tour
the
Walt Disney Studios?!!? Walk the same grounds that Walt Disney himself walked. See the very place where some of my all time favorite films have been made. Forget a golden fastpass or even a night in the Walt Disney Dream Suite. Visiting the Walt Disney Studios was safely filed away under lock and key in my wildest dreams. It wasn't going to happen, not in my lifetime, and yet I am hearing that I've been invited to see the Walt Disney Studios.
There was just one tiny problem. The tour was going to take place in February and I'm a tax preparer. Talk about the worst time of the year to have an opportunity like this come up. You don't just leave work for 4 days in the middle of tax season to visit Disneyland, especially when you hold an annual pass. Fortunately for me, my boss is also very much responsible for my Disney obsession. You see, I work for my father, and it was he and my mother who put that fateful Mickey Mouse poster in my nursery before I was even born. It was they who bought me a plush Mickey Mouse that I would toss out of my crib and cry forlornly before my friend was returned to me, at which point, I would toss him out again. It was they who took me to Mickey's 50th Birthday party when I was but two years old. And it was these same loving parents who took me and the siblings who later joined me to Disneyland on a regular basis, and almost every single Disney movie, both classic Walt Disney re-releases and the newest Disney film in theaters(and aside from Star Wars, these were the only films they took us to see). Knowing that this trip could not be taken in May, he let me take the time off, both of us knowing full well that I would be chained to my desk in the office upon my return. It was a tradeoff I would happily make again.
Chapter 1: On the Road Again
And so, on the morning of February 12, I hit the road at 7:45 am, a whole fifteen minutes earlier than my last visit down. I'm trying to determine the best time to leave my home in northern California so I can minimize the time spent in Los Angeles rush hour and obviously get to Disneyland earlier. On this visit, I will learn the true genius of Walt Disney's accomplishment and why no matter what Walt Disney World has to offer, in many ways, Disneyland is still the best park Disney has ever built.
The irony of this visit is that the more things change, the more they stay the same. On my visit in December, the sports radio station I listen to was abuzz with the pending release that day of the Mitchell Report on steroids in baseball. And on this morning, the same sports radio station is abuzz with the pending testimony of Roger Clemens in front of the U.S. Congress about steroid use in baseball. All in all, I make really good time. For whatever reason, the extra fifteen minutes actually saved me about an hour as I arrive the Tropicana Hotel right across the street from Disneyland around 1:45 pm. I get the key to my room, drop my stuff off, and then head right across the street, where it will be my joy to stand in line for about half an hour. While the park is still semi-crowded from crowds associated with Abraham Lincoln's birthday, I really have to wait in line to buy my annual pass. My old had expired, and since I knew this trip may be coming, I had opted to wait and renew my pass instead of letting it run unused for six weeks or so. Only this time I have learned my lesson. When buying an annual pass to Disneyland, there is only way to go, and that's premium. With all the discounts you get on food and merchandise, not to mention the complete lack of blackout dates, the premium pass more than pays for itself. And now, in order to pick up my pass, they send me to the one place where there's sure to be no one for miles around(at least until they open Toy Story Midway Mania and the other mega attractions following as part of the 1.2 billion dollar makeover), Disney's California Adventure.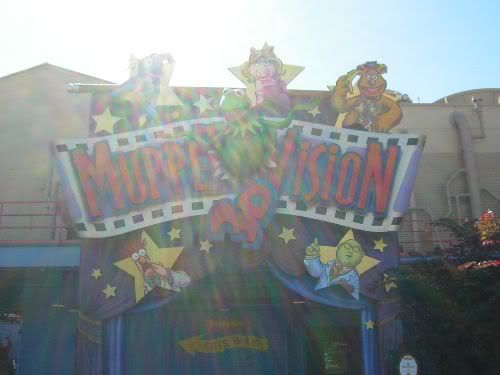 Since the line for Tower of Terror is longer than I would like, I decide to hit Muppet Vision 3-D. Opting not to repeat my childhood feat of tearing an entire book of little rainbow construction paper into confetti to celebrate going to see the Muppet Movie, I head over to meet the muppets. One of my favorite parts about the DCA queue for this venerable attraction is the plethora of muppet parody posters. I really think that this attraction would have much higher attendance numbers if people knew who the muppets were.
Only a true genius like the Great Gonzo could survive a stunt like this
Insert theme music from The Godfather here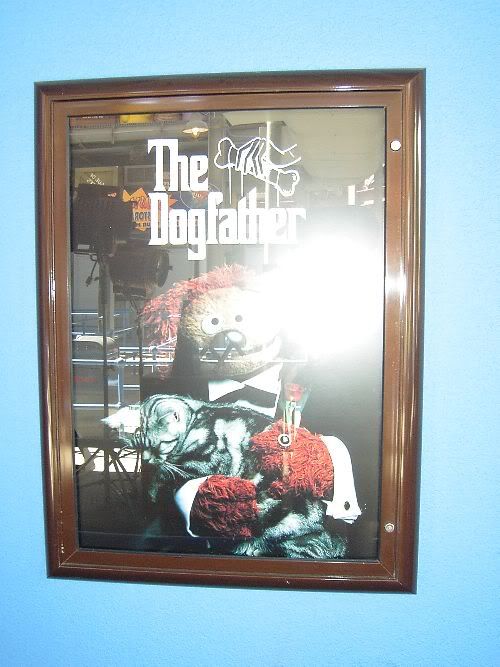 Protecting the Old From the Young of the Universe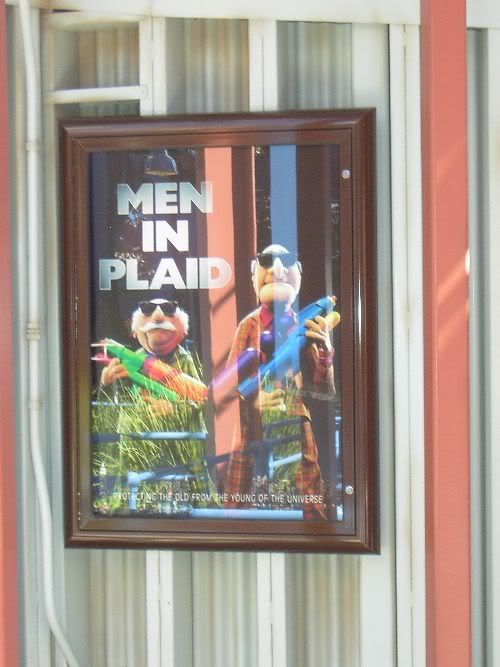 After hearing Statler and Wahldorf heckle their way through yet another performance(it must be difficult being bolted to the floor), I head out only to hear the Muppet Show Theme in stereo. After a moment's hesitation I realize that in addition to the music playing as I leave the theater, my cell phone is ringing(gotta love that Muppets ringtone). Doug is returning my call and he's going to meet up with me.
Frumpy Old Men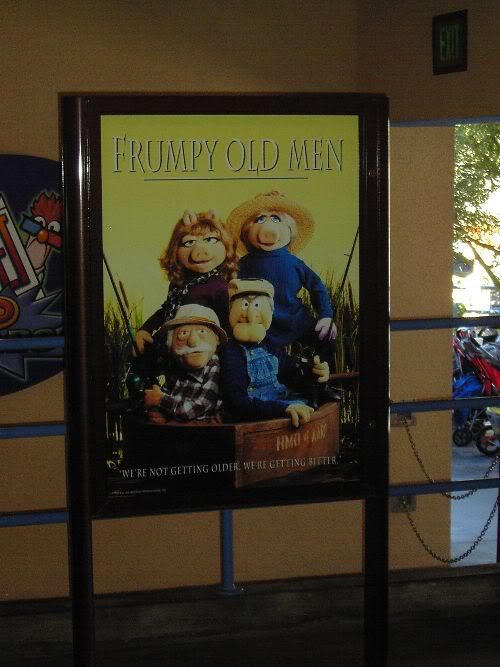 I'm not so sure about a pig as a Bond girl(guess I'd better duck after that comment)
L.A. Traffic can sure drive me crazy
This is punderful (get it?) on so many levels
After heading over to Monsters, Inc I head back to Off the Page, where I've decided to meet Doug. While waiting for my sketch to finish up, Doug and I admire the wonderful art located in Off the Page. As art collectors, we discuss which ones we like, but don't have the room to display.
I planned on putting my new discount to use in Off the Page anyways since I'd had my eye on one of those custom sketches that the artists do. These sketches are kind of fun. Disneyland, unlike it's Florida counterpart offers not one color, but two colors in the sketches in addition to any custom text that you desire. After some deliberation, I finally decide on the sketch I want. As I'm buying this sketch with birthday money from my mother, I want this to have some meaning to me. For the text I've chosen a scriptural reference to putting on the armor of God, a passage that reminds me of the climax of Sleeping Beauty where Prince Phillip, armed with the sword of truth and the shield of virtue, must battle Maleficent and all the powers of hell.
And then I encounter a disappointment. They're completely out of the frame I want, but not wanting to wait, I decide on another frame, until that old Disney magic strikes again. The sketch artist overhears the conversation and informs the cast member assisting me that the very frame I want is sitting on her artist's desk for display purposes and that I can have it if I want after they swap the display sketch out. I readily accept, especially since the frame has Mickey Mouse drawing in the corner, so now I have something with both Mickey and Sleeping Beauty on it. In the end, it's little touches like these that make Disney special. The sketch artist didn't have to tell the cast member that the very frame I wanted was on her desk. She could have kept it there to show other guests. And in order to give the frame to me, they had to swap out the sketch in there already and put it in a new frame. It's little things like this that keep me (and my money) coming back to Disney.
The finished sketch that now hangs on my wall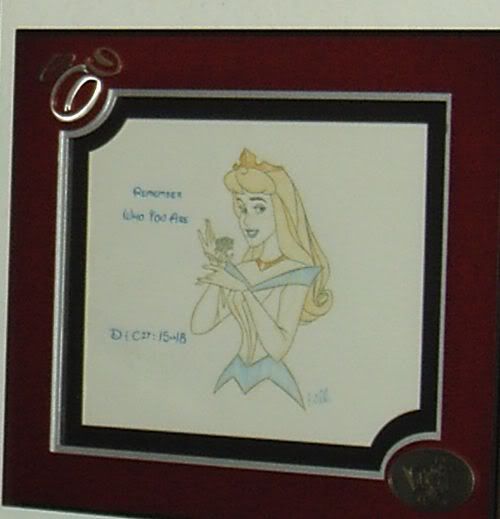 With the sketch taken care of(boy do I love that Premium AP discount), Doug and I head off to hit some more attractions. Single rider line reduces our wait time for Soarin' substantially. After that we decide to attempt Mulholland Madness. With the rumors that this will become Goofy's Sky Skool, I have but one request. They need to make the ride vehicles friendlier. In short, I'm wookie sized and I have a hard time getting in and out of this ride. I feel sorry for guests who are larger as I can't imagine how hard it is for them.
With that we head over to California Screamin' and I once again admire the wonderful facade being built for Toy Story Midway Mania. I think this has substantially improved the look and feel of Paradise Pier. It's beginning to feel a whole lot less cheap than it used to.
After picking up my sketch, we decide to head over to Disneyland and finish off the day there. Plus, I have work to do. You see, tomorrow is my birthday. That's right, I'm going to be in Disneyland on my birthday. I couldn't quite believe it back in January when Cindy told me that we would be touring Disneyland on my birthday with Harrison Ellenshaw. So, once in the park, I head to City Hall and pick up my birthday button for tomorrow, at which point they tell me something about a phone call that I need to receive tomorrow. Sounds cool.
Seeing as how I'm a Disney art collector, there is another piece of art I need to get. I recently discovered a piece by Disney Imagineer Larry Nikolai. I had the privilege of meeting Larry last June when I bought a giclee of a painting he did called
Aurora
. It's beautiful and I recently discovered a new piece Larry did.
Flying to Fantasyland
is beautiful. It depicts the characters from the opening day Fantasyland attractions flying around the top spire of Sleeping Beauty Castle. What seals this piece for me is that if features a sweet scene of Dopey giving Princess Aurora a rose. No word yet on how Snow White feels about this. Fortunately for me, Disney has released this piece in deluxe print form, so this isn't very expensive, and we're on our way.
Seeing as how it's not May and I went on this trip in February, I can't remember what we did for the remainder of the day. I know we hit a few rides and visited a few of the shops, but that's about it. Tomorrow is a big and exciting day. Up next a tour of Disneyland with artist Harrison Ellenshaw, the son of one of the 3 original artists who helped Walt build the park, Peter Ellenshaw.