Well, you got me: I
love
Disney World! This year was definately my best birthday ever! I got to stay for the first time in a top-tier resort - the Contemporary (am I the only person who thinks it bears a resemblance to the Axiom from
WALL-E
?), and with our own monorail, my parents and I had the entire world at our fingertips!
Of course, since this is Studios Central, I'm only gonna focus at the stuff I did at Hollywood Studios, though I did a lot of stuff in all the parks (...except Animal Kingdom, which I don't normally go to
).
The first time me and my family visited HOLLYWOOOOOOD, it was just a few hours before closing on the first day we were at Disney World. The main reason we took that quick stop-off there was, I admit, to see if I could catch any Citizens. Unfortunately, I only caught the tail end of the 'Funniest Citizen' contest featuring Officer Manly and Tootsie Du Jour, but I did get a chance to yell out "I like both of you!" and got a thank you! Hehe
Photos of our first night:
The good news was that, since we were in the Studios near dinner time...food! Yay! We got to go to the 50s Prime Time Diner, where I realized I have a long-lost borderline alcoholic uncle named Dale. Said server, Uncle Dale, was an absolute BLAST. I decided, as is my nature, to draw him a picture (told ya I love cartoons and animation!)...and he then proceeded to show all of the other tables in our section of the restaurant! I'm pretty sure I was blushing bright red at the time. We also took a photo to comemmorate our 'Family reunion'...
(My Dad said that this was the best restaurant of the trip, and that it reminds him of his childhood. The food was great, too [especially the potatoes]! "I Married Joan" is such a rip off of "I Love Lucy", lol)
Fast forward to our second-last day at Disney World and we have our full day at the Studios! My Dad had dared me the previous time to go on the Tower of Terror...and I was absolutely going to do it this time, no matter how scared I was of dropping! At least, I kept telling myself that...
I am not a thrill ride person...but I was going to face my fear!
As we walked into Hollywood, we finally saw - gasp - our first Citizen of Hollywood! It was director Otto Von Bon Bahn shooting a production with Cynthia Bloom (with a very enthusiastic volunteer clapper-boy from England who was very good at keeping count)! We even got some video of it, which, unfortunately, cut off the best part - Cynthia Bloom doing a shot really slowly, Otto telling her to hurry up, and then her doing the shot ludicrously fast - I was literally in
tears
with laughter from that part!
Here's the kicker, though: Otto dropped his megaphone, and, since I was right behind him on the bench (I'm the one in the green tie dye Stitch shirt), I decided to pick it up for him - but then he started yelling at Cynthia more, and I was sooo nervous because I thought he was gonna yell at me, too! So, out of nervousness, I improvised...
(Of course, right after this, Mom said she got it all in photos! Ohhh Mom, you're never going to let me live down the 'megaphone head indident', are you?
)
The video proof!
(Haha, rewatching this brought back memories of the part where some person on an electric scooter went through the shot RIGHT AFTER OTTO SAID 'NOBODY GO THROUGH THE SET'. The look he gave that lady was *priceless*. Also, OMG OTTO SAID MY NAME
)
Afterwards, Cynthia (who was thoroughly convinced Dad was a talent agent) and Otto were happy to be in some photos. All was good in the 'wood!
Only a few minutes later, we saw Shelby Mayer, Bucky Greenhorn and Freddy Fiddlesticks on board their car, but we literally just missed them! Aww...
I wanted to meet Mr. Mayer!
However, soon Freddy Fiddlesticks (accompanied by Honey Darling) was 'ready' to take some photos with us! Meeting them was the source of the awesome quote in my signature!
We also ran into another director, Flavio Fellini, who offered me the privaledge to 'touch him, but only once' (as well as 'one touch for the road'). Whatta guy!
...now, the time has come...the mood is right...for a visit to the Hollywood Tower Hotel! AAHHHHHH
You don't want to know how scared I was. I think the correct word would be 'petrified'! I was shaking, according to my Dad! I was so afraid of the eventual free-fall into the 5th dimension!
However, there were two things that would keep me pressing onward: my love of the
Twilight Zone
(best. anthology. EVER.) and my love of the attraction's atmosphere, storyline, and - you guessed it - bellhops. Ahhh, the bellhops...
;;
Winding through the garden and lobby, I tried to spot as many
Twilight Zone
references as I could! Finally, we made our way into the library, and the video started up. Conflicting feelings, much? I was so gosh darn excited and so scared at the same time! Though, for a geek like me, hearing the familiar voice of Rod Serling was oddly reassuring...
When our rooms were ready (I call the canopy bed!) we were loaded into the service elevator, and I only knew too well that we were going to relive that fateful night in 1939. What I didn't expect was the narration and the ghost part before the dropping - that was really, really cool! Just as we reached the parting elevator doors, glowing with the beckoning light of the Twilight Zone, I remembered what kind of elevator I was getting on to...
Dunn dun
DUN
!
This really does sum it up, doesn't it?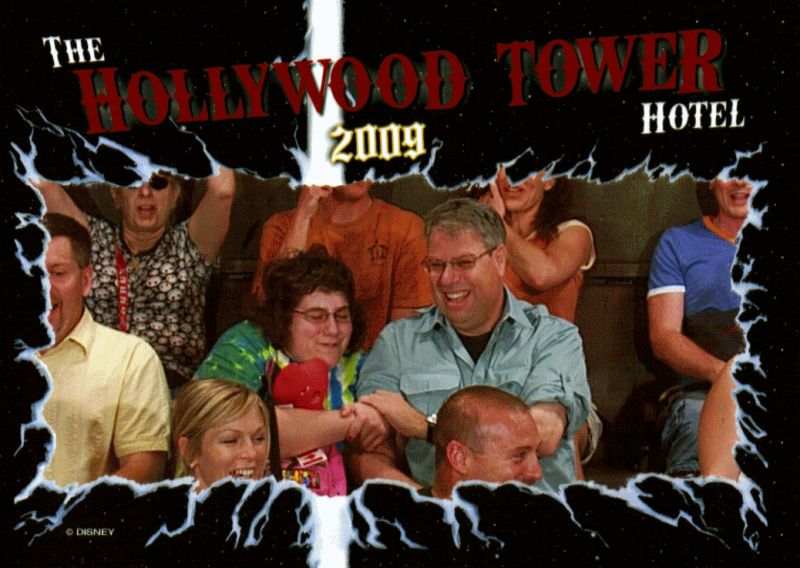 "Oh my gooooooood, oh my goooooood!" - Me on the Tower
I survived! I did it! First time...and I assure you, it will not be the last time I check in to the Hollywood Tower Hotel. I must admit that I was literally shaking the entire rest of the day from the Tower, but now that I better know what to expect, I will visit at least once every trip to prove myself still brave enough
To comemmorate this, I got quite a few things in the Tower gift shop - a Hollywood Tower Hotel nightie, a pin with a room key, and, the best ever - a pin with Stitch as a Bellhop!
We just went around doing random things (and rested up at the hotel) until dinnertime, where we went to my favourite restaurant in the Studios - Sci-Fi Dine In! As you may have guessed, I'm a pretty big fan of old-timey science fiction (...also Mystery Science Theatre, but that's another story), and this place combines that with CHEESE DIP, so I'm game!
Sadly, this is the first time we couldn't get a car, so we had to sit in a table...but Mom and Dad didn't mind, and overall everything was good! Our server there was awesome. I think his name was an odd spelling of Kevin (like 'Kevon' or something) but we started calling him 'Master K', and so started a quite awesome dinner experience. Did I mention CHEESE DIP?
Since there was no Fantasmic! that night (I actually didn't see it at all this trip
) and the park was winding down, we walked out of the Studios for this year, saying goodbye as the Pluto sign wagged his tail...we left with so many great memories! The only regret I really have is not running in to more COH, specifically the Hollywood Public Works (more specifically, my favourite COH EVER, Sparky Sparks...) but we will try to find them next time!
Thank you for staying with me through my epic tale of fame, fortune, and nearly throwing up after a thrill ride! Sorry if it was really long!
I really enjoyed sharing it with you here at Studios Central!
~ Pirka