Figured I would start a thread on here... so here's a bit about my wedding/disneyland honeymoon that was a few months ago!
Wedding Day - Part 1 - Getting Ready/Magic Kingdom Portrait Session
Well, Ryan and I had gone to bed the night before at around ten or so after our rehearsal dinner with everyone. We finally fell asleep close til eleven. I woke up at 1am and couldn't sleep. I woke the hubby to be up and told him I was anxious, so he tried to get me to sleep. Well it didn't work so I ended up watching *** & The City. Yay for our big flat screen in our poly honeymoon suite! :cheer:
At 3am, when we were finally supposed to get up, we got up, Ryan shaved, and I took a quick shower but didn't wash my hair. At about 3:50 we got a call from Lisa from Lisa's Magical Weddings, she just needed to be swiped into our building. So Ryan walked down to the end of the hall and let her in. We set up in the corner of the room. And she started on my hair. I told her I honestly don't care. I decided on a side-part and the rest of it up. About 40 minutes later, my hair was done!
And Ryan was playing Game-boy the entire time. Lisa was highly entertaining to work with. She told stories about her grand daughter and working at Disney. Then she also explained the MK Portrait Session process to us. She said the photographer will call you about an hour before or so just to check in. She was right! Right inbetween my hair and make-up, Amy Alexander called who was our photographer! She said she was running early, so she should be in the lobby by 5:40am, so whenever we are ready just head out!
Lisa went to work on my make-up then. She was fast and efficient. She also gave me two "touch-ups" for my lips since she figured I would eat breakfast before the wedding. We ended up getting to the Polynesian Lobby at 5:45am. However, I forgot to wear all my jewelry. Let me just say... it was FREEZING!!!!!!!!!!!!!!!!!!!!!!!!!!!!!!!!!!!
Amy was in the lobby waiting for us, and we hopped into her van and off we went. Amy was wonderful to work with and absolutely amazing. The castle lights were not on, the castle was black, so we actually ended up getting a lot of other photos elsewhere. And a lot of the other ones are my favorites! Amy had a shall for me to use in between shots.
May I just say, we found the ONE wedding day of the year that at 6am in the MK it was about 30 degrees. NOT the day to be wearing a strapless dress. I was FREEZING! However, it was a lot of fun and I loved our session. I decided not to use my flowers for it because I"m klutzy and didn't want to drop them. Amy explained that they would have fixed them had I broken them, but I didn't want to run that risk!
Anyway, here are a few photos from our session...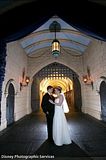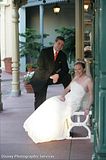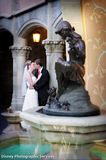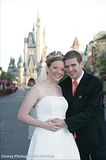 http://i178.photobucket.com/albums/w254/JeanneLuvsMusic/3%20-%203%20-%2009/th_87.jpg
http://i178.photobucket.com/albums/w254/JeanneLuvsMusic/3%20-%203%20-%2009/th_95.jpg
We returned at 8am to our room and were FROZEN! I was freezing. Ryan jumped in our jacuzzi, but with my veil, make-up and hair, I couldn't, so I just stuck my feet in to unfreeze them. I would not stop shaking. I piled on as many layers as I could, but then soon I had to get back into my dress.
At 8:30am, we were getting ready to leave our room since we'd be there by 9am to the Polynesian lobby and I all of a sudden was almost puking with fear. Not fear, that I was going to marry Ryan, that I was fine with, but fear that the wedding was going to be messed up in some way by our wedding planner or someone was not going to show up. Well I had brought my teddy bear that I had since I was little and Ryan being adorable just had him walk over to me and made the bear jump into my arms, which how I ended up with this photo...
http://i178.photobucket.com/albums/w254/JeanneLuvsMusic/th_Wedding346.jpg
We left the room and headed out to the Polynesian lobby. It was a bit warmer, but not much! We were off to get married!