Introduction
Once upon a time, there was a schoolteacher who was counting down the days for when she could begin her summer vacation in Florida. As the time arrived, all her luggage was packed in the red car that she was going to drive down I-95 with, and as an added bonus, she brought me along. That's right, folks. My sister and I made our annual commute down the Eastern Corridor to all the major Disney Theme Parks, and this is our story.
We started on our way a little after 10:00 AM, after I got a reasonable amount of cash from the bank, and had no problems on the road until we hit Virginia. There was lots and lots of traffic on the Belt-Way, and we were in desperate need of a gas station. Plus, it was teeming with rain. It was as if the state of Virginia did not want us to leave. We made it out of there anyway, and stopped off in Rocky Mount, NC for the night.
One good night's sleep and a continental breakfast later, at which I dazzled my sister with my "mad waffle-makin' skillz", we were back on the road. We reached my sister's condo at around 7:30, but we didn't dive into the parks the next day. Nope. Saturday was a food shopping day to make sure we had enough food for 2 months. And it had to be healthy food. It was my job to keep my sister on her Weight Watcher's program. Yeah, right. Good luck trying that while there are highly fattening foodstuffs served at the parks.
Animal Kingdom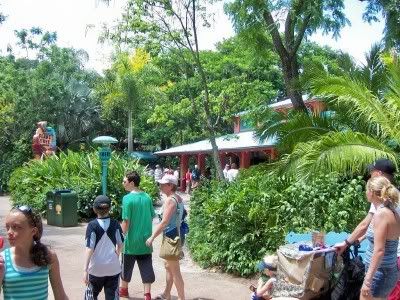 We woke up on Sunday with plans to visit Animal Kingdom. I would have wanted to visit the nearby church first, but my sister doesn't normally do that whilst on vacation. Not a good habit, I can tell you, but that's a different story which doesn't need to be told.
As I have mentioned in my last trip report, animals do not interest me, but my sister has a special place in her heart for "critters". Me, I was there to ride Everest and Dinosaur.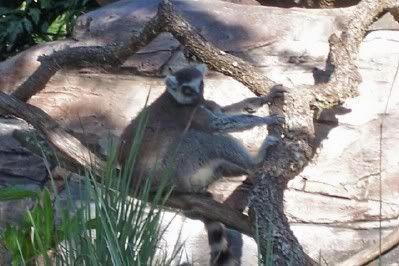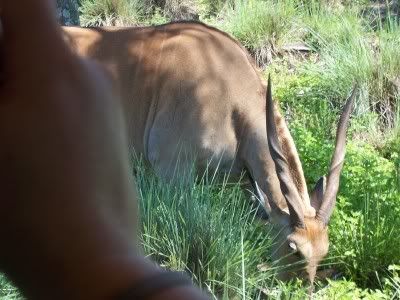 Really, animals don't interest me.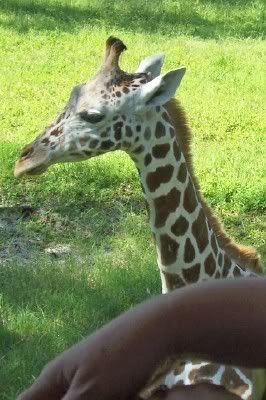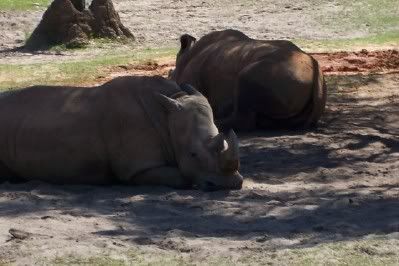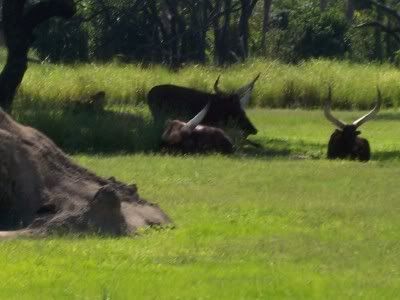 Even while on the Safari, most of the shots came out blurry because the darn vehicle was going too fast.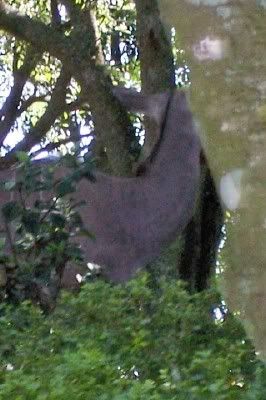 I don't even know what this one is.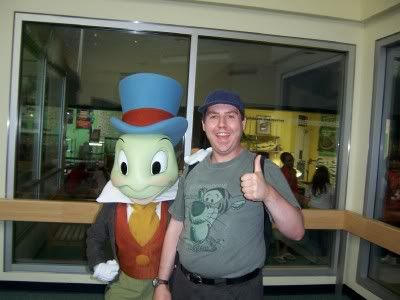 One of the other attractions is Conservation Station, where you take this train to a facility where you can watch the animals get medical treatment. This is necessary to keep them happy and healthy while at AK. While my sister was chatting it up with a CM about the baby elephants and watching first aid for turtles who met with unfortunate circumstances on Disney property, I leaped at the chance to meet Jiminy Cricket who you don't see very often in the parks anywhere. Of course, I could tell in this picture that the actor inside the costume was rolling his or her eyes thinking, "What does this nerd think he's doing?"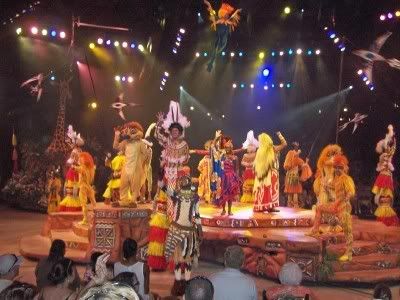 Now here's something that's worth seeing. Legend of The Lion King. The good news about this attraction is you can take all the pictures you want, and most people were doing it. The bad news is, even with "digital enhancement", some of the shots still come out too dark.
It was pretty rainy over at AK, and pretty much everywhere else, so we ate at the Rainforest Cafe... again, and ended the day to prepare for MGM.
Disney-MGM Studios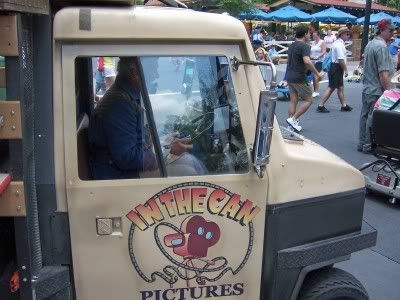 Getting to the Disney-MGM Studios wasn't easy. I had originally called for a cab which never showed up, so I took a pair of city buses that took way too long to get to my final destination. Fortunately for me, I was able to meet my sister at Downtown Disney to get here, and I was able to accomplish my missions.
http://img.photobuck...rs/Citzen_1.jpg
http://img.photobuck...s/Citizen_2.jpg
You'll be seeing more of these characters in my YouTube vids as soon as I go through them and get them up, including the Hollywood Public Works. Additionally, I caught the Beauty and the Beast stage show which you'll see on YouTube as well.
http://img.photobuck...backin5mins.jpg
I had some time to kill between my objectives, so I took in a viewing of Muppet-Vision 3D. This is probably the only time you'll see photos of this attraction. The sign says "Back in 5 minutes. Key is under mat."
http://img.photobuck...keyundermat.jpg
And sure enough, there is an actual key under the mat. I don't know if it's functional, but there was no one to stop me.
http://img.photobuck.../HTHstatues.jpg
I just had to capture these statues on film from the Hollywood Tower Hotel. They were so antique looking. It's too bad you couldn't take inside photos. Same with Rock & Roller Coaster. Then again, they have their reasons, if you know what I mean.
http://img.photobuck...s/MGMbanner.jpg
On my last trip, I was unable to get these parade pics, but now here they are. My best shots of the Disney Stars & Motorcars Parade.
http://img.photobuck...Mrattatouie.jpg
http://img.photobuck...s/MGMratcar.jpg
Although this parade seemed to have a severe rat problem.
http://img.photobuck...ToyStorycar.jpg
http://img.photobuck...yPoppinscar.jpg
http://img.photobuck...MGMMulancar.jpg
http://img.photobuck...MAladdincar.jpg
http://img.photobuck...StarWarscar.jpg
http://img.photobuck...Villainscar.jpg
http://img.photobuck...os/MGMPRcar.jpg
http://img.photobuck.../MGMJojocar.jpg
http://img.photobuck...stersInccar.jpg
http://img.photobuck...loStitchcar.jpg
http://img.photobuck...s/MGMTLMcar.jpg
http://img.photobuck...nowWhitecar.jpg
http://img.photobuck...GMMickeycar.jpg
Sorry I couldn't think of any clever captions for these pics, but when you're capturing a parade as digital pixel images, words can't really describe how fun it is... except for the one pic of Ariel where I pointed to her and placed my hand over my heart as a sign of affection. She got shy about it.
http://img.photobuck...ters/Kimpic.jpg
The key to meeting both Kim and Ron at Disney-MGM Studios is to show up early in the day. This was the problem I had while getting to the park, and my attentions were diverted elsewhere. While I had this pic taken with Kim Possible, Ron was out at Bueno Nacho on "All-You-Can-Eat Naco Night." Then something remarkable happened:
http://img.photobuck...ilyportrait.jpg
On their way to the Big Giant Hat, these characters passed through Streets of America and caught Kim Possible's attention. She called out to Jasmine to watch out for Dr. Drakken & Shego. I don't remember exactly what went on, but it brought amusement to my face and the faces of others waiting in line with me.
http://img.photobuck...owWhite2007.jpg
This photo will look great in my office. Well, it has to. It's the only updated pic I have of Snow White.
http://img.photobuck...ers/SWqueen.jpg
And according to Queenie here, this will be the best photo I'll take all vacation.
http://img.photobuck.../BrownDerby.jpg
So here's where I had dinner. Ever since my girlfriend turned me on to it, I'd say this is the best restaurant in the entire park. So good in fact, that they make available the recipes for Cobb Salad and Grapefruit Cake for free. I hope someone crafty in the kitchen can make the cake.
Since we didn't stick around for Fantasmic, since I've seen it a hundred billion times, here are some atmosphere shots:
http://img.photobuck...GMDinoprint.jpg
http://img.photobuck...Mstreetsign.jpg
http://img.photobuck...os/porthole.jpg
http://img.photobuck...s/taxirates.jpg
Next stop, my birthday.
Magic Kingdom
Here it is folks, the trip report you've all been waiting for: How I Spent My Birthday in the Magic Kingdom.
For starters, I had a specific agenda with this park. All of which were pretty much followed up on, except for
this
which did not happen (that vid was taken by someone at an earlier point in time) I did manage to make
this vid
, and while I was there, take that ride. It would be the only ride I would go on for the entire park.
http://img.photobuck...Arielstatue.jpg
http://img.photobuck...Ariel2007_4.jpg
I think this will be the last time I visit Ariel. Not that my experience was an awkward one, but read on.
http://img.photobuck.../Aurora2007.jpg
http://img.photobuck...derella2007.jpg
http://img.photobuck...YellowBelle.jpg
Now it's not bad to have your picture taken with these characters, but every time I do, it makes me feel like I'm a 7 year-old girl. And I can't play around with pirates either because, even though I'm the right gender, I'm the wrong age. So if Disney's agenda would have the 7 year old girls as princesses and 8 year old boys as pirates, where would that leave folks like me? According to my sister, with evil villains.
http://img.photobuck...etrueparade.jpg
http://img.photobuck...floatmickey.jpg
http://img.photobuck...atPinnochio.jpg
http://img.photobuck...loatAladdin.jpg
http://img.photobuck...oatVillains.jpg
http://img.photobuck...defloatPPan.jpg
http://img.photobuck...tprincesses.jpg
http://img.photobuck...goofyminnie.jpg
So after I filmed the Pirates tutorial and sat in with the Storytime with Belle (which may be another tradition I will seek to give up seeing as I can NEVER GET PICKED TO PLAY THE BEAST), I caught the Midday Parade, which was pretty much the same parade as the last theme, except they got rid of the snowglobe bubbles. Talk about redundancy.
Around 5:00, my sister and I went to my birthday dinner at Tony's. I kinda expected that she could not get the castle, and I tried to tell her that they book the castle out 6 months in advance from the day you call in, and then again sells out in less than 5 minutes. I was not bitter about this. I know how I feel about princesses, I've already done both of the other character meals, and hey, you can't go wrong with a nice Italian dinner, especially one that ends with a complimentary birthday ice cream sundae and the entire restaurant joining in the celebration. They also gave me a neat card.
http://img.photobuck...ay/birthday.jpg
Next stop: the Off-Kilter concert stage
Epcot
I'm gonna cut to the chase here with this trip report. We didn't do anything at Epcot except sit through all of Off-Kilter's music sets. For those of you who live under a rock, Off-Kilter is a progressive Celtic rock band who plays traditional and not-so traditional Celtic music. Some of it is Irish, some of it is Scottish, and some of it is neither Scottish, Irish, or even Canadian. All I can say is they are good, and my sister likes them. I sat through and taped all their sets, and I am currently waiting for their OK to post it on YouTube (actually, I just asked them how they felt about people posting their stuff on YouTube), so in the meantime,
here's a sample of their act that someone else taped.
http://img.photobuck...ryPoppinsUK.jpg
Here's an interesting exchange between me and Mary Poppins. I had told her I was from New York, and she had told me that she had visited Long Island. When I told her my sister lived in Oceanside (in Long Island), she said she knew people there. Could Mary Poppins actually know people in Oceanside, or could she have originated from Oceanside herself? Quite a mystery.
http://img.photobuck...ers/AliceUK.jpg
Here, I told Alice that I had met her and the Mad Hatter in MK, and I tried to get Hatter to do something funny, but it seems they got distracted by my pins. Either way, The Mad Hatter in Disneyland still wins.
http://img.photobuck...cot/rainbow.jpg
Unfortunately for us, the last Off-Kilter set was rained out, and we had a whole mess of time to catch the fireworks. While we were waiting for that to happen, I spotted this beautiful rainbow in the sky right after the rainstorm. This is truly Disney Magic at its best.
Conclusion
As always, the hardest part about the vacation is saying goodbye to it all and facing reality once again. My sister has it easy since she is a schoolteacher and gets her two months of paradise before returning to purgatory. Regardless, it was good to get home and collect all my treasures in one sitting, even if I did spend over $40 on Japanese snack food treats in Epcot and who knows how much more on what else. The purpose of a vacation is having fun, and that's what I'm after. I enjoy going to Orlando, and I hope I can return again this time to run into any one of you.