ADP Live from Disney World
Posted 09 April 2011 - 09:19 AM
---
Posted 09 April 2011 - 10:07 AM
Duffy the Bear is everywhere!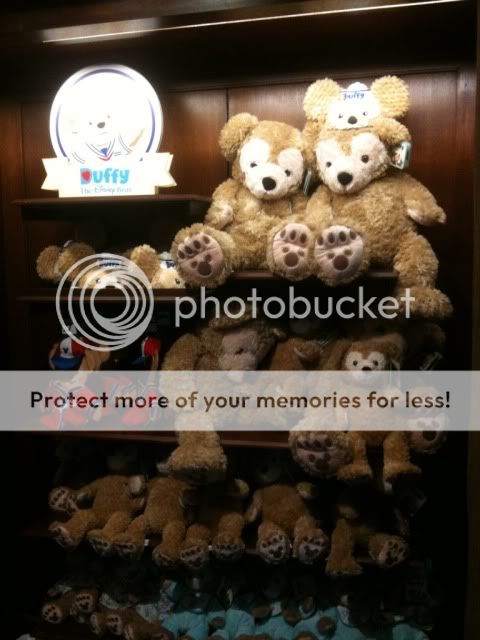 ---
Posted 09 April 2011 - 11:44 AM
---
Posted 11 April 2011 - 12:13 PM
Good Morning All,
I wanted to just give some final thoughts and reflect on our visit to WDW. We always have a great time and love just being there, but we always have opinions, so here are mine.
A few thoughts about our visit:
> The Yeti is still broken. He was in disco mode and dark both times we rode EE.
> Test Track still breaks down.....A lot!
> The Geyser at the Wilderness Lodge rarely works
> We lucked out...The weather was outstanding.
> Crowds were heavy, but not nearly as bad as I imagined.
> There's a lot of construction/updating going on beyond Fantasyland.
> Resort specific merchandise is still getting phased out, but if you can find it you can buy it at 40 to 50 percent off.
> Disney buffets/character meals are overpriced for what you get.
I also feel the need to mention I'm not afraid to fly, but I can't say we have had a smooth flight in the last 7 years. Everytime we fly we seem to encounter weather systems, winds, or cross the jet stream which causes turbulance. I understand the concept of turbulance, but there's something about a plane shaking at 40,000 ft that bothers me at times. A little turbulance doesn't bother me, but dropping, climbing and shaking quite a bit tenses me up, especially when it's sudden. If they can build cruise ships with stablizers to cut down on motion why can't they do the same with airplanes? It's time to update the aging airplane fleet. Okay...Enough about that.
We enjoyed staying at Bay Lake Tower, but it's not a favorite of ours. We prefer the resort feel of the Animal Kingdom Villas and Saratoga Springs (albeit big). Of course, the location of BLT is awesome! We loved walking to the MK or taking the monorail to EPCOT.
The parks are in good shape, but there's a lot of updating going on. They are still very clean. Some attractions seem to break down more often than others.
We enjoyed Mickey's Backyard BBQ. My suggestion to anyone would be go experience it once, but you probably won't want to consider going back for a number of years unless they drastically change it.
Crowds were not as bad as I thought they would be. Still, your best defense against crowd levels is getting to the parks at opening. You'll have 90 minutes of free reign to ride the attractions with little to no wait. After that all bets are off.
One other thing I need to comment about. Disney is micromanaging everything they can, from quick service meals to character meet and greets. The Disney experience is becoming more automated and process oriented. I understand why they have to do it because they need to move lines and crowds the best they can, but at some point the automation is going to severly affect the vacation experience. It's affecting it now, but not really bad. Have you ever looked in the kitchen at a quick service location? The cooks and food handlers in the back act like robots when creating your entree. Everything is a process which causes predictability. Sometimes we want to experience a surprise. Anyway, just a thought. You may feel differently, but it's just what I'm seeing as the years move along.
That's all for now. We are returning in June for 2 weeks with a 5 night cruise on the Disney Dream. Like many of us we are looking forward to experiencing the Dream. I'm also looking forward to the last 2 weekends of SWW and the new Star Tours 2. So, until the next round of updates starting June 4th I'll see you right here on the forums.
---
Posted 11 April 2011 - 12:23 PM
QuickGold, on 07 April 2011 - 10:37 AM, said:
Do I want to ask how much the private cabanas are?

Here are the prices
$110 (+ tax) for a half day, or $185 (+ tax) for a full day.
Half day rentals are 10 am – 2 pm, or 3 pm -7 pm. Full day rentals run from 10 am -7 pm.
Rental Cabana amenities include:
. Two padded chaise lounge chairs
. Sofa & Love Seat
. Plush towels
. 22 inch LCD television with cable access and optional earphones
. Sirius Satellite Radio
. DVD/CD/MP3 player
. Phone for internal resorts calls
. Oscillating Fan
. Mini refrigerator stocked with complementary sodas and water
. Complementary fruit basket
. Private dining and poolside massages are available for an additional cost
---
Posted 16 April 2011 - 10:47 PM
Thanks for sharing your trip, it completely brightened my day after just getting more snow!!

---
Share this topic:
---
1 User(s) are reading this topic

0 members, 1 guests, 0 anonymous users