The All Ears Net newsletter reports:
Quote
As of March 9, guests who dine at Les Chefs de France restaurant are being treated to a unique kind of entertainment, allowing them to meet the culinary rat Remy, from the movie Ratatouille. Remy is an Audio-Animatronics puppet who, along with the restaurant maitre d' (a comedic actor), engages guests by performing a series of humorous, theatrical vignettes, using a moving food cart with a silver-domed cheese platter as their stage. Remy can make a variety of noises and comes across as a living, breathing little character with a point of view all his own. The Remy Cart was conceived by WDI Research & Development with support from WDI Creative Entertainment.


Remy can be seen 12:30 - 6 p.m. at Les Chefs de France through September 5, 2009. (Remy can also be seen at Disneyland Paris where he's been entertaining guests since last summer.)
And the Passporter newsletter states:
Quote
Remy Appearing Daily at Epcot. Remy the rat from Ratatouille is making daily appearances at Les Chefs de France restaurant in the France pavilion in the World Showcase in Epcot. Remy, an Audio-Animatronics puppet, appears on top of a moving food cart pushed by his human sidekick, the Maitre D'. The duo engage in a kind of mobile comedy act from 12:30 pm-6:00 pm.
DH and I had lunch at Chefs de France last week, and I took some pictures.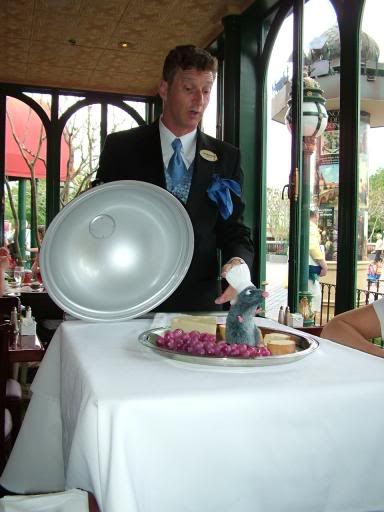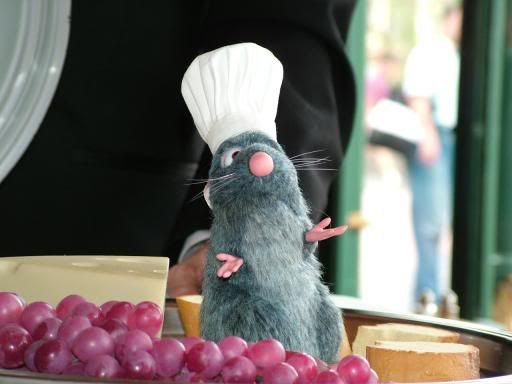 I was told Remy makes the rounds about every half hour, but I think it's more like 45 minutes. We saw him inside while we were waiting for our table outside, and he didn't come around until we had finished our appetizers. Chefs de France only holds about 266 people.