Our first trip to WDW was back in 1994 when the 4 of us (Mom & Dad - both 34, Son-13, Daughter 11) drove from Albuquerque New Mexico to Walt Disney World on a grand adventure that included stops in San Antonio Texas, New Orleans Louisiana, and a few other places. 15 years later (Sept. 2009) we returned as a couple to celebrate our 30th anniversary. Both trips were wonderful, and we were on such a "Disney High" that we decided to take my parents for their first visit. They are 79 & 82 years old, so we began planning the trip for April 2010. Mom and Dad were excited and looking forward to their first visit to Walt Disney World!
Arrival Day - Sunday 4/25/10:
Ages: 50, 50, 79, & 82.
We got up at 3:30 am and immediatley went into "travel mode". We flew from Albuquerque to Dallas/Ft. Worth where we switched planes and on to Orlando.
We hopped onto the Magical Express and it stopped at Old Key West, and Saratoga Springs before we got to our resort - Port Orleans French Quarter.
We had only stayed at Port Orleans Riverside for our previous 2 visits, and we thought the French Quarter was a little less spread out for Senior legs. We also wanted them to experience the Water Taxi's to Downtown Disney which we had enjoyed so much. When we checked in, we had asked for a 1st floor room, but they had us in an upstairs room. I asked the cast member if they could fix that for us, and she called and in a few minutes said that she could put us in a room on the first floor, and that we'd probably be pretty happy with it. When we got to the room we were surprised that we had a beautiful view of the Sassagoula River, and it was beautiful!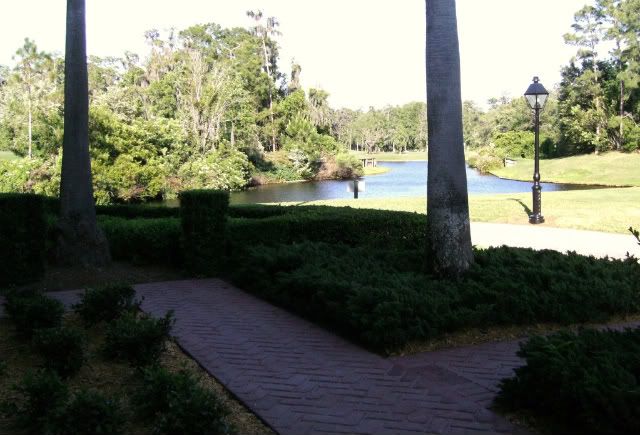 We settled in, and then headed for the water taxi to take it up to the Port Orleans Riverside, where we had an ADR for Boatwright's Dining Hall. On our last trip, we checked into our room, and had an ADR for Boatwright's and it was so good, we HAD to do it again. Our server was so friendly and he really hit it off with Mom & Dad. The meal was a great start to another great WDW vacation.
We had planned to head over to Downtown Disney on the Water Taxi, but a big storm was brewing, and they stopped running. We showed Mom & Dad around the Riverside's marina area, and then took the walk along the river back to the French Quarter. We had so much fun introducing them to the resort. We just rested up as a big thunderstorm raged most of the night. The weather reports said that the storm would pass, and it would be a great day for our first visit to one of the parks. Epcot tomorrow!