This is going to be kinda longish and graphic heavy. Bear with me.
Introduction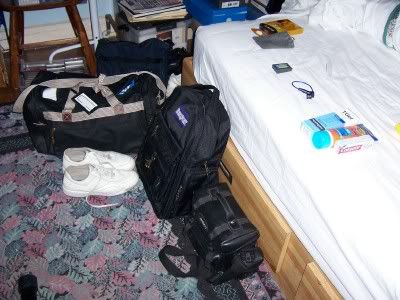 All my bags are packed, I'm ready to go. I'm leavin' on a jet plane bound for Orlando, FL. On this vacation, I will have hit every single Disney theme park. The flight went off without any problems, the Mears shuttle was prompt & efficient, and the hotel I stayed at was very accomodating.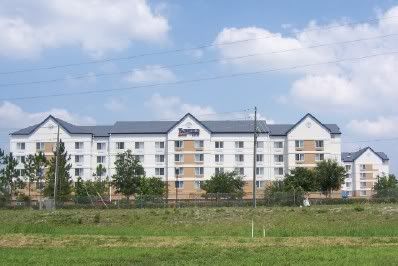 And this was the hotel that I stayed at. Now I know what you're thinking, "Why didn't you stay at a Disney hotel?" Simple answer, friend: I'm Catholic. And being Catholic, I am required to attend some kinda Catholic Church, and the only one that's the most convenient was Mary Queen of the Universe Shrine on Vineland Avenue. It's just up the road from the Fairfield just before Orlando Premium Outlet. This was the Church organization that operated out of Disney's Polynesian Resort, but since Disney doesn't like religion on its property, they sought worship at the Shrine. But this is not a topic for discussion on this board, so let's move on: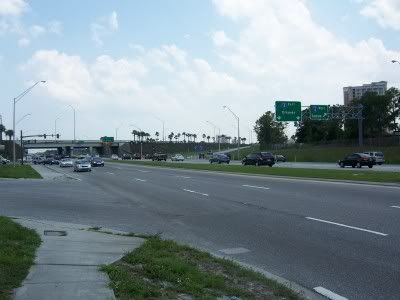 Being in Florida, there aren't that many places to travel on foot. Maybe just to 7-Eleven or a gift shop...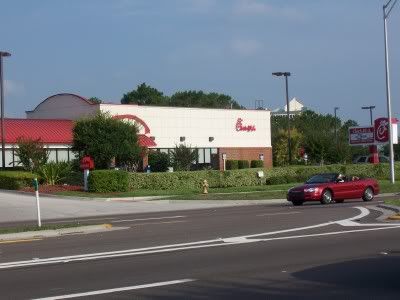 Yeah, you could eat there too, but I opted for a Bennigan's because it was right near the Walgreens where I picked up new earbuds for my iPod (left originals at home
). Maybe I'll eat there someday.
Hey, where are you going? Don't you want to hear what I did on my vacation? This is just the setup. It gets better! I promise.
Animal Kingdom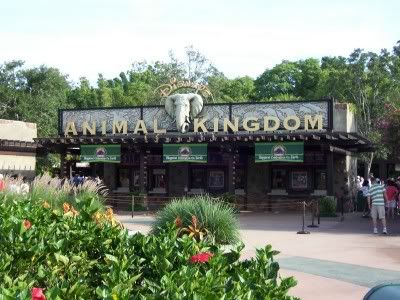 My first day takes me to Disney's Animal Kingdom. You may be wondering why this is so because animals do not interest me much.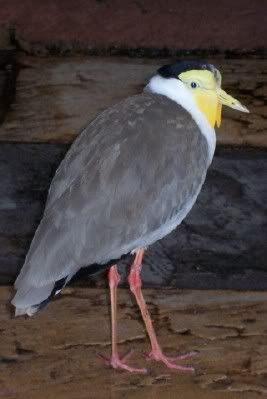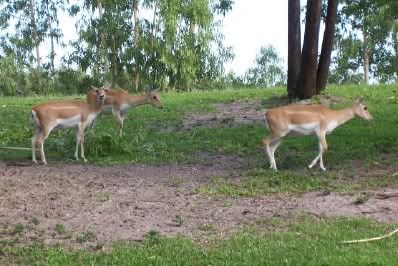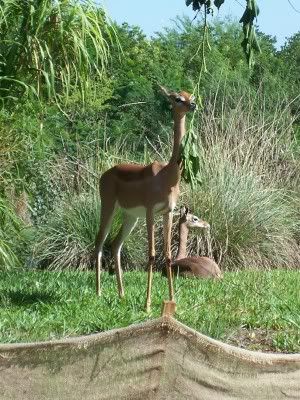 Really, they don't interest me.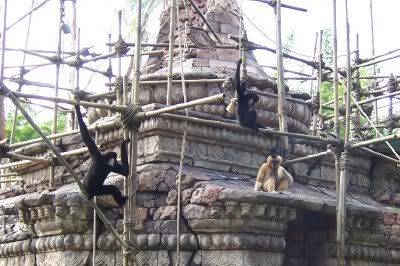 http://img.photobuck...silverbacks.jpg
Seriously, what could you possibly find that is interesting in that?
http://img.photobuck...gdom/tigers.jpg
http://img.photobuck...Kingdom/bat.jpg
http://img.photobuck...m/flamingos.jpg
http://img.photobuck.../spoonbills.jpg
Are we done here? Can we go on to the real reason why I wanted to visit AK first?
http://img.photobuck...om/Everest1.jpg
Now we're talking. Expedition Everest was the first Fastpass ride that I got upon entering the park. After riding this, I heard someone make a comment that it was a total letdown. You don't see the Yeti much on it, the movie was better (???) I thought it was cool.
http://img.photobuck...om/Everest2.jpg
http://img.photobuck...om/Everest3.jpg
http://img.photobuck...dinolandUSA.jpg
http://img.photobuck...dom/dinosue.jpg
The next place I visited was Dinoland USA. These are areas of the park that I've never been to before in this park. It's cute, but Dinosaur makes a better ride than Primeval Whirl. And in this part of the park were a juggling act that they don't mention in the guidebook. I forget the name, but they have something to do with painting. They were funny.
http://img.photobuck.../ParadeSign.jpg
After the first rainfall I had experienced at Disney covered the park in sogginess, I was fortunate to catch the Jammin' Jungle Parade. My mother likes this one because of the highly decorated and uniquely designed puppet floats like this one:
http://img.photobuck...radegiraffe.jpg
http://img.photobuck...parrotdrums.jpg
http://img.photobuck...lephantdrum.jpg
http://img.photobuck...arademonkey.jpg
Meanwhile, I like the parade itself.
http://img.photobuck...RafikiFloat.jpg
Behold, the grand primate!
http://img.photobuck...MinnieFloat.jpg
Doesn't she look cute?
http://img.photobuck...deChipNDale.jpg
Simon says: Hop on one foot.
http://img.photobuck.../GoofyFloat.jpg
That's my doge!
http://img.photobuck...radeStilter.jpg
Look at me! I am tall!
http://img.photobuck...DonaldFloat.jpg
Yes, he is all he's quacked up to be. Now stop with that corny pun!
http://img.photobuck...MickeyFloat.jpg
Not the best shot of Mickey there, but hey! There was a real challenge trying to take still photos of a moving parade. Video is more acclimated to a parade like this.
Needless to say, I did not have the time to have dinner at the Rainforest cafe. It would have been crowded with all those people getting off of Everest, not to mention I would have missed my bus going back to the hotel. And you do need wheels to get around the property. With the exception of the Downtown Disney area, Disney has no pedestrian walkways at all. And if you're off property, you are going to have to pay for shuttles.
Well, I wanted to be near a church.
Epcot
http://img.photobuck...ceshipEarth.jpg
It doesn't take a rocket scientist to figure out where I headed next. The main draws here are Soarin' and Mission Space. I managed to fit in Spaceship Earth in between the two attractions. Hey, with a ten-minute wait time between rides, how could I turn that down?
http://img.photobuck...issionSPACE.jpg
Epcot is best when it rains because of the many indoor exhibits that folks can take cover indoors from the rain. You have Innoventions, Club Cool, The Land, The Living Seas, Journey into Imagination, and many other things.
http://img.photobuck...ouseTopiary.jpg
http://img.photobuck...t/SWtopiary.jpg
http://img.photobuck...BatBtopiary.jpg
http://img.photobuck...LatTTopiary.jpg
Epcot is also home to the May Flower & Garden Show, where the landscaping aspect of the park takes center stage in these special topiaries. Aren't they beautiful?
http://img.photobuck.../BatBwindow.jpg
Now this is a gorgeous stained glass window of the Beauty and the Beast story, and on the other side of it is where you can actually meet Belle and Beast. I've already met them on a past trip, but that didn't stop me from running into a family whom I had already met in Future World. I would meet the same family at the gates of World Showcase Lagoon for Illuminations. You'd think they were following me. It was so weird.
http://img.photobuck...t/Marakesh2.jpg
No, Jasmine didn't fall on hard times and started dancing for money. This is the live entertainment available at the Marakesh restaurant in Morocco. That's where I ate for dinner. I haven't eaten there in a while, and though it wasn't my first choice for dining, I knew there was a reason why I wanted to eat here. This pic is not the reason. Really, it isn't.
Magic Kingdom
http://img.photobuck...gdom/castle.jpg
By now you've realized that I've arrived at the Magic Kingdom: The world of fantasy for kids and kids at heart, but mostly for the loud, whiny, obnoxious kids and the disciplinary parents who have to pay for everything else except souveniers that the kids want that they don't. You don't see these types in the commercials, which makes it all very misleading. Mostly it's the parents fault for feeding the kids artifical coloring & flavoring to make them hyper and then waking them up early and keeping them up late on vacation to make them even more cranky.
http://img.photobuck...m/MKwelcome.jpg
MK has this opening ceremony that is reminiscent of The Music Man. I don't know who came up with this idea, but it looks amusing.
http://img.photobuck...nsidecastle.jpg
Now here's a very rare sight, particularly for those who do not schedule their castle meals 6 MONTHS IN ADVANCE FROM THE DAY YOU PLAN TO EAT THERE. Fortunately for me, they just let me use the restroom.
http://img.photobuck...m/PotCfence.jpg
Yeah, yeah, we know. Capt. Jack Sparrow makes his grand debut on my birthday. I've already done the birthday thing at MK. To take another vacation to Disney right after the last one just to experience a mobbed ride is insane and costly.
http://img.photobuck...om/Pleakley.jpg
So I get a chance to check out the Stitch attraction in Tomorrowland, and I do have to admit, it is kind of a letdown. But the kids will definitely like it.
http://img.photobuck.../horseshoes.jpg
http://img.photobuck...m/giantball.jpg
And speaking of kids, here is absolute proof that MK is definitely for kids. They play kids games before the parade. The cast members seem to enjoy playing these schoolyard activites despite the fact that they're old enough to be in college. At least they invited all the "old people" to join in the Hokey-Pokey. Unfortunately, nobody asked me to join in the Hokey-Pokey.
http://img.photobuck...m/Waltfloat.jpg
Finally, the parade kicks off with Walt himself creating the character that will one day rule a major entertainment empire.
http://img.photobuck...mickeyglobe.jpg
Yep, it all started with a mouse, all right. A mouse that hates my guts.
http://img.photobuck...chingbrooms.jpg
And there's his army making its "security sweep".
http://img.photobuck...occhioglobe.jpg
Have you ever had any strings on you?
http://img.photobuck...m/donkeyboy.jpg
"I have, and look what happened to me."
http://img.photobuck...hiteonfloat.jpg
Okay, so Snow White has her own Character Meeting room in ToonTown, but the dwarves do not? Not only do I not understand this logic, but it's going to be a major disappointment for the office worker who likes the Seven Dwarves.
http://img.photobuck...laddinglobe.jpg
If I rub the Aladdin globe, do I get a wish?
http://img.photobuck...tesonparade.jpg
I wonder if the Disney company realizes that real pirates were nothing more than just indentured servants who were rebelling against their rulers? Is that the kind of thing they want to market to boys?
http://img.photobuck...illainglobe.jpg
Hey, Queenie, what do you want to do tonight? Try to take over the world?
http://img.photobuck...gdom/Ursula.jpg
You want me to give up my WHAT for a date with Ariel?!?
http://img.photobuck...mcharacters.jpg
A Character Boss once told me that MK has the most characters than any place within WDW. This must be where they all are.
http://img.photobuck.../peterwendy.jpg
Now here's an interesting interaction. The parade characters can actually pick out individual faces out in crowds, and Wendy here noticed my pins. I wasn't sure what she said exactly, but I do know that Ariel liked my pins as well. Might there have been a connection between the two?
http://img.photobuck.../Cindyglobe.jpg
So the girls and young women get Princesses to admire, the boys get pirates. Where does that leave folks like me (besides at the front gate)?
http://img.photobuck...astlefloat2.jpg
Didn't these characters have their own parade globes?
So that's it for the 3:00 parade. I had some more time to kill, so I visited the Storytime theater and did not get picked to play the Beast (how DOES she do it?), rode the Haunted Mansion, and ate at the Liberty Tree Tavern (pics in a different post). After Liberty Tree Tavern, which was ironically the only Character meal in the park that was availabe at 7:50 PM, I stepped right outside and found a perfect spot for Spectromagic. Unfortunately, I didn't get very clear pics. Not even with my digital camera.
Disney-MGM Studios
http://img.photobuck...s/MGMstreet.jpg
Let's stroll along Hollywood Boulevard to the giant Sorcerer Mickey hat of Disney-MGM Studios. This is the site for Disney's east coast movie and television production studios. I don't know if it's still used for that purpose, but the highlight here is pure entertainment promotions, be it from Walt Disney Pictures, ABC, and its subsidiaries.
http://img.photobuck...Studios/ToT.jpg
I didn't really take as many photos as I would have liked to have since most of these attractions are "camera-unfriendly", and rain ruined it all, especially for the 5:30 parade that wasn't. My main target was the hilarious street performers, the Citizens of Hollywood, and my mission was to capture them on video for the purposes of showcasing their antics on YouTube I did manage to get Fastpasses for the Rock & Roller Coaster and Tower of Terror, two of the must-see attractions in MGM.
http://img.photobuck...s/StarTours.jpg
This is another of the must-see attractions. I tried going to the Muppets, but they were experiencing technical difficulties. I can tell you that when you enter, you see a door with a sign that says "Key is under mat". I have not been able to confirm this, but it's apparently true.
http://img.photobuck.../MGMNewYork.jpg
http://img.photobuck...anFrancisco.jpg
New York Street has been around like forever, but San Francisco is brand spanking new, and the location for Kim Possible. It used to be the home of the Hunchback of Notre Dame stage show until it's demise in 2004, and with it its accompanying characters. I never did get the rest of their autographs except for Phoebus.
http://img.photobuck...tudios/cars.jpg
This was about as close as I could get to the Cars characters. Plywood cutouts inside the Animation attraction. You know, the place where they had an actual studio with actual artists using traditional hand-drawn animation tools before Eisner @#%$ it all up. One of the things they do have is kiosks that let you see which Disney character you're most like, coloring stations, and voice dubbing. And at the tail end of it, they teach you how to draw an actual Disney character. I drew Donald Duck... again.
As I mentioned before, the Parade was rained out, so I went to dinner early at the Sci-Fi Dine-in where I had an item that was not on their menu: a bacon cheeseburger. They really do this. The funny thing about it though, it was served not by my "carhop", but by a uniformed server. I didn't understand it either, but my server Ali was very friendly and accomodating. I gave her twice the tip than what was normally acceptable.
After dinner, it stopped raining, and I headed over to Fantasmic to end my day. I realize that I did not get to see alot of stuff at the Studios due to the weather and my on-the-fly plans, but I hope that my next vacation will be more complete. In fact, since my plane didn't leave until 10:00 the next day, I could have bought myself another admission and experience the stuff that I didn't experience before, but I didn't want to chance coming back late to the hotel. Those Mears buses really stick to their schedule.
So what did I do with my remaining day?
Final Day
http://img.photobuck.../crossroads.jpg
So there I was, walking along S.R. 535, expecting to check out the CrossRoads of Lake Buena Vista (which BTW has absolutely NOTHING except food outlets and a few odd shops not relating to Disney), when I look across the street and find...
http://img.photobuck...se/WDWgates.jpg
TA-DAH! WALT DISNEY WORLD RESORT GATES!
It turns out that this is the gatewy to the Downtown Disney area hotels, sort of like the Good Neighbor Hotels near the property without being on the property, only these hotels are on the property (Does that make any sense?).
It's over here where we can find Downtown Disney Marketplace, Pleasure Island, and the West Side shopping & entertainment complex.
http://img.photobuck...DisneyStore.jpg
The World of Disney store has gone through alot of changes, including the Bibbidi Bobbidi Boutique for girls which made me nauseous from across the Princess section.
http://img.photobuck...iratestatue.jpg
For the boys, they've marketed the Pirates brand which doesn't interest me. Not even on a historical level. I know they were indentured servants who rebelled against their masters, but Disney isn't going to tell you this.
http://img.photobuck...se/westside.jpg
Over on the West side, DisneyQuest costs you money just to walk in and look around, Virgin Megastore sells everything at Full Price, and the Rainforest Cafe over by Marketplace beats out Planet Hollywood in everything. The only place I can see doing well by me is the AMC theaters, where I began my job search. I stayed there for a month because I did not have a driver's license, and the bus system SUCKS SEA MONKEYS!
http://img.photobuck...pics/SR_535.jpg
The Downtown Disney area doesn't warrant a full day experience, so I spent that walking along S.R. 535 up until where it becomes Apopka-Vineland Road, then turned back. I don't recommend walking the pedestrian walkways of Orlando as the store buildings are too few and far between, and the heat is rather unbearable. I could have spent the rest of the day at the hotel pool, but I had already checked out, and my luggage was already stowed away. Besides, what's the fun of swimming if you have nobody to join you? So I just hung out, paid for the Internet stations in the lobby while waiting for the Mears shuttle to pick me up for the airport.
So what did I think of my little flight to Florida? I can tell you that sit-down dining does cost less for one than it is for two, but there's not really anyone to talk with while waiting for your meal. On the plus side, solo travel is liberating where you get to do what you like to do exactly how you like to do it. True, it's more fun to be with people, but it does take alot of courage to travel alone. Fortunately for me, I would find someone to travel with in October. She knows who she is. :wink: