In Private Party Venues at Disney's Hollywood Studios – Part II, we looked at event possibilities at the Great Movie Ride, The Magic of Disney Animation, Journey into Narnia: Prince Caspian and Hollywood Hideaway. Today we'll finish up our tour of the park with a look at several events on the Streets of America—including Lights, Motors, Action! and the Backstage Prop Shop—plus Pixar Place and Echo Lake. Most of these events are of the high-dollar, corporate variety, but the Prop Shop offers an economical alternative.
Pixar Place
When the park closes, the toys come alive at Pixar Place for a carnival-style party just for you! While most events at Disney's Hollywood Studios start with guests being escorted to the venue by guides, for a party at Pixar Place you can hire Sarge and the Green Army Men from the Toy Story movies to do the honors. Once they arrive at Pixar Place, guests can enjoy a meal or desserts, unlimited rides on Toy Story Mania!, character meet-and-greets, and a DJ spinning from the back of an oversized Hot Wheels car.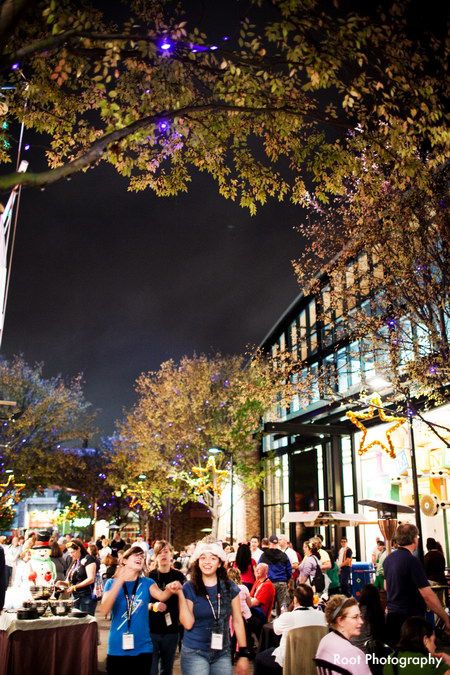 Capacity is 1,500 with 60% seating (meaning not everyone will get a chair). The venue fee is $2,000, while the food and beverage minimum is $5,000. Keeping Toy Story Mania! running will set you back $8,500, and the entertainment package of Sarge, Buzz Lightyear, Woody, a DJ and the Hot Wheels car costs $4,695. Additional Pixar characters can be added at $900 for one, $1,350 for two, or $1,800 for three. Green Army Men come in sets of three: $1,800 for one set, $2,150 for two.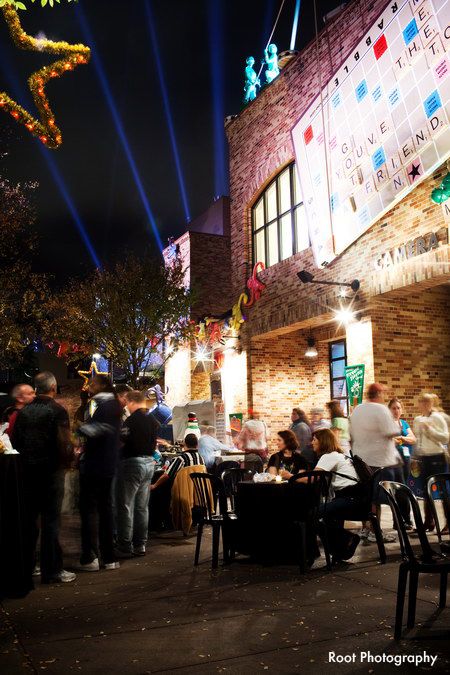 Enhancements include an a cappella group to perform a Pixar version of "Name that Tune" ($9,630), oversized toy and game props for décor ($360), a giant leader board outside Toy Story Mania! to track top scorers ($3,390), and even the entire Pixar Pals Countdown to Fun parade ($35,000)! While you're at it, why not throw in a Fireworks Finale launched from the Sorcerer's Hat to cap the night ($14,550)?
Echo Lake
Indiana Jones Epic Stunt Spectacular One of the most expensive event concepts at Disney's Hollywood Studios, the Cairo Dinner Show on the set of the Indiana Jones Epic Stunt Spectacular literally puts guests in the show.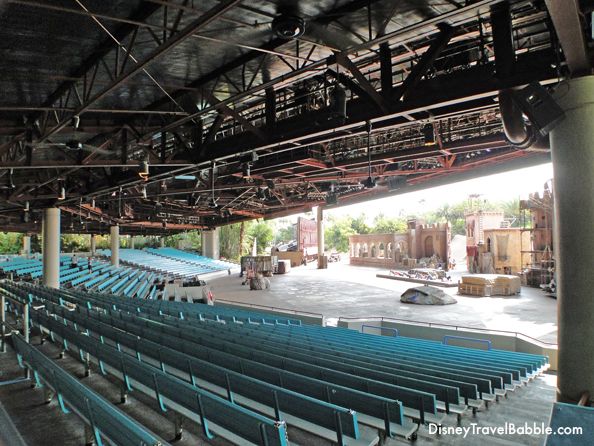 Once again, the premise is moviemaking: As the evening starts, guests watch Indy retrieve the golden idol and dodge the giant boulder. But when the Director yells, "Cut!" his next task is to enlist guests as "extras" for a banquet scene, handing them costumes and parting the set to reveal dinner served in a mock Egyptian marketplace. A DJ and a belly dancer entertain guests as they hit the buffet.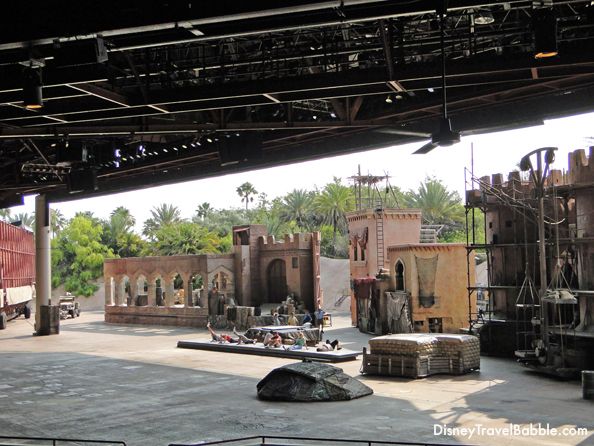 At the end of the night, guests enjoy the thrilling conclusion of the show, complete with stunts and explosions. The experience is available for groups of up to 300. The venue fee is $3,000, while the food and beverage minimum is $4,000. An entertainment package that includes Act I and Act II of the Indiana Jones Epic Stunt Spectacular, the belly dancer, the DJ, and stage décor costs $17,140. For $750 you can add the "Executive Reveal" in which Indy's stunt double is revealed to be one of the guests (he or she gets to keep the jacket and hat). For $700 you can add a fortuneteller. A henna artist costs $960, while a temporary tattoo artist and assistant cost $1,400. For photos of the Cairo Dinner Show event, check out this post on AllEars.net.
Streets of America
Backstage Prop Shop Like Hollywood Hideaway, the Backstage Prop Shop is one of the few event venues in Disney's Hollywood Studios that can be used during park operating hours, and at a fairly accessible price. You may remember this space from its former life as a queuing area for the Studio Backlot Tour. Now it's open only for special events, but all the disused props, set pieces and parade elements remain.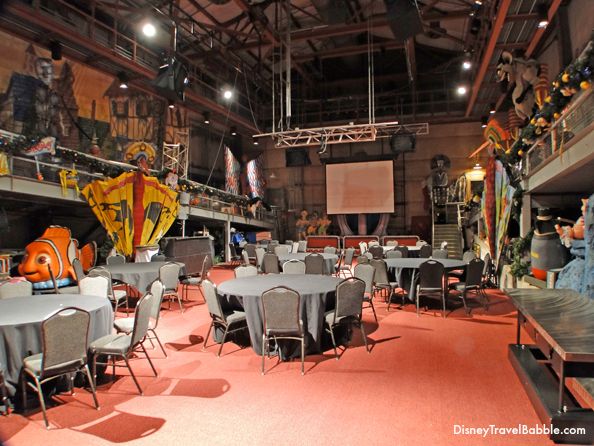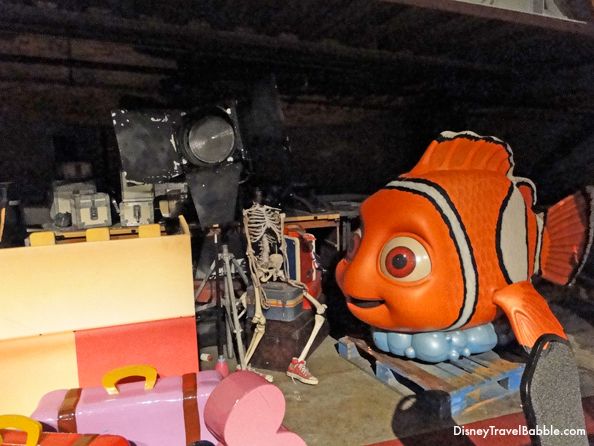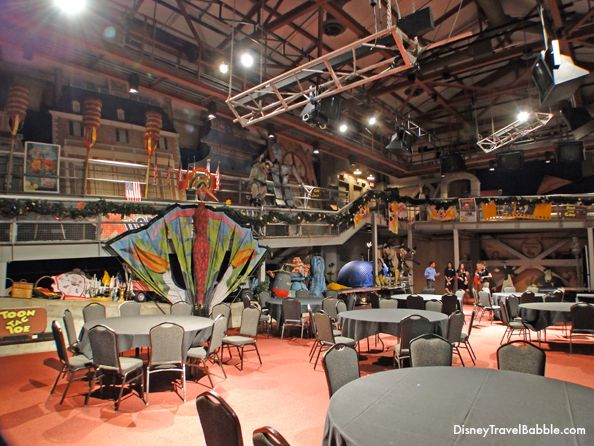 Capacity is 100 people, but it decreases with use of a dance floor. The venue fee is $300, while the food and beverage minimums are$400 for breakfast, $520 for lunch, $800 for an evening reception, and $1,500 for dinner. Disney's optional event concept for this space includes an elderly prop master who lets guests in and shows them around while telling stories about the props. He's eventually joined by his buddies, a geriatric band of Dixieland jazz musicians who drop by for a jam session and regale guests with songs and stories. This entertainment package will set you back $4,515. Additional characters—a starlet, a movie producer, a director, Mickey and Minnie in movie star garb—are available at the standard character rates: $900 for one, $1,350 for two, or $1,800 for three. A roaming magician costs $760.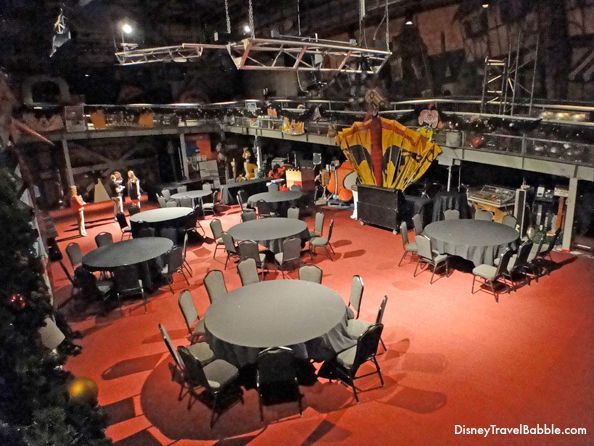 Mama Melrose's Ristorante Italiano For instant atmosphere, you can't beat Mama Melrose's Ristorante Italiano, and for a fee you can have the whole place to yourself. The restaurant holds 225 people, and the venue fee is $250 plus an additional buyout amount that must be custom-quoted by Disney. The food and beverage minimum is $1,500.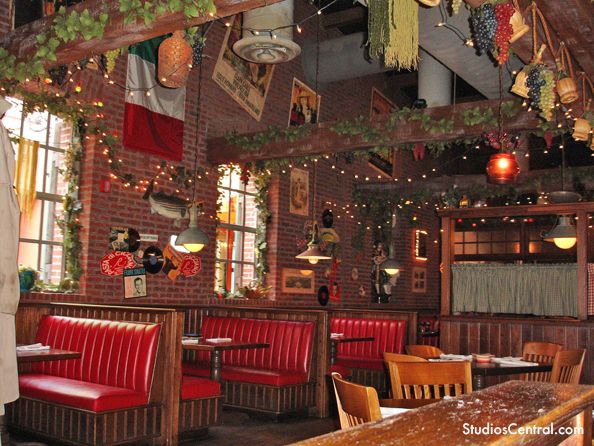 Lights, Motors, Action! Extreme Stunt Show There are a couple of options for holding an event in the Lights, Motors, Action Theater, depending on group size. Groups of up to 200 can have a plated dinner at "Café Parisienne," the Mediterranean village backdrop for the stunt show, for a $1,000 venue fee and a $5,500 food and beverage minimum. The $5,100 mandatory entertainment package includes a mock maitre'd and an accordionist (but, thankfully, no mime), along with event lighting, a greens package and a custom image on the theater's huge screen.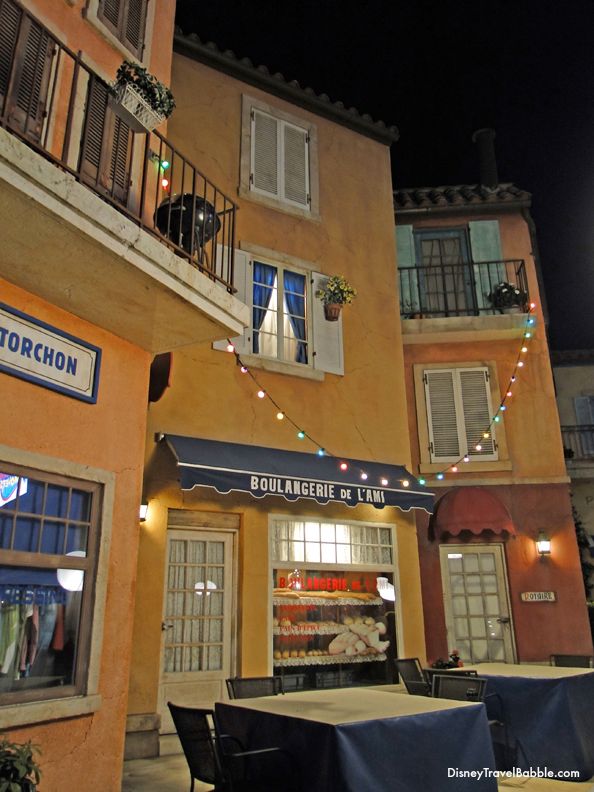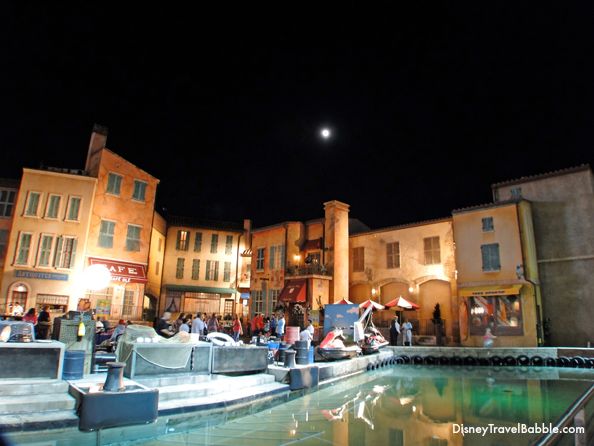 For $1,700 you can add a décor package consisting of picket fencing, street lamps, and a red carpet for guests' arrival. A faux harvest moon runs $2,760, a chalk artist is $815, a caricature artist costs $585, and a chair-balancing acrobat and assistant cost $2,560. For $1,800 you can have either a pair of singing chefs, two jealous lovers who interact with your guests, or a strolling improv comedian dressed as a French policeman. The entire set of Lights, Motors, Action! Extreme Stunt Show is available to groups of up to 850 for a buffet with 100% seating or groups of up to 1,025 for a reception with 60% seating. The venue fee is $2,000 and the food and beverage minimum is $7,500. No entertainment is required, but all the options listed above are available. A DJ will run you $6,300.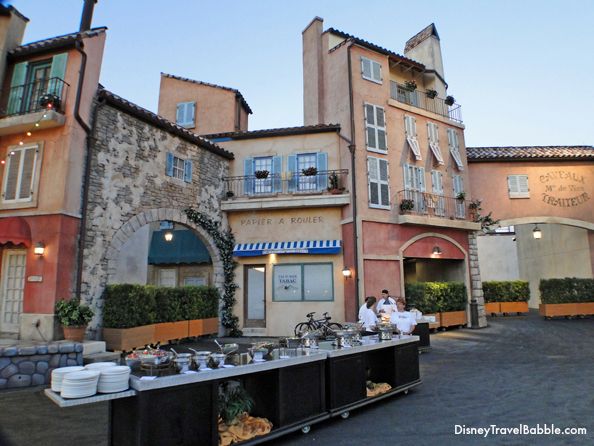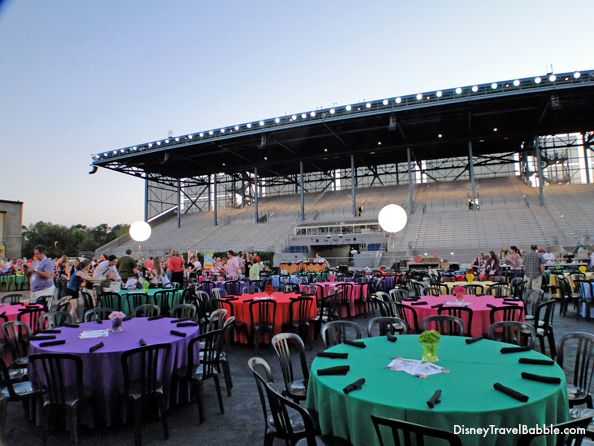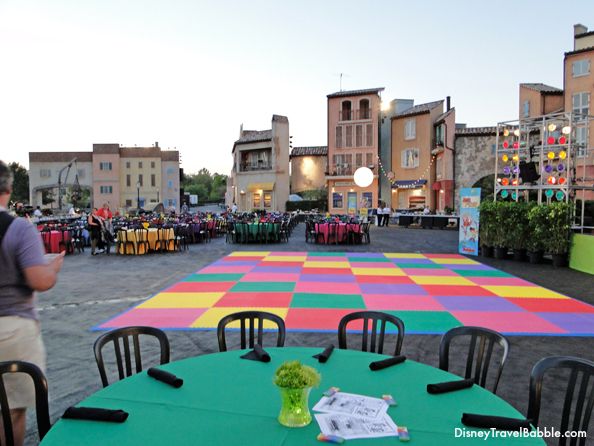 San Francisco Street Almost as expensive as the Cairo Dinner Show, the event concept for San Francisco Street is an elaborately over-plotted affair that starts with a modified version of the Studio Backlot Tour and then brings in no fewer than 10 Streetmosphere performers to dust off myriad moldy clichés about San Francisco, from aging hippies and a Berkeley literature professor to a bicycle messenger and a flamboyant dressmaker—let the hilarity ensue! Eventually a pregnant woman, a straight-arrow cop, a karaoke host, and a frustrated insurance adjuster-turned-undertaker figure into the plot somehow. But wait, there's more! At the end of the evening, your CEO/guest of honor will get frisked, cuffed and booked by two police officers for violating a noise ordinance. That'll teach him or her!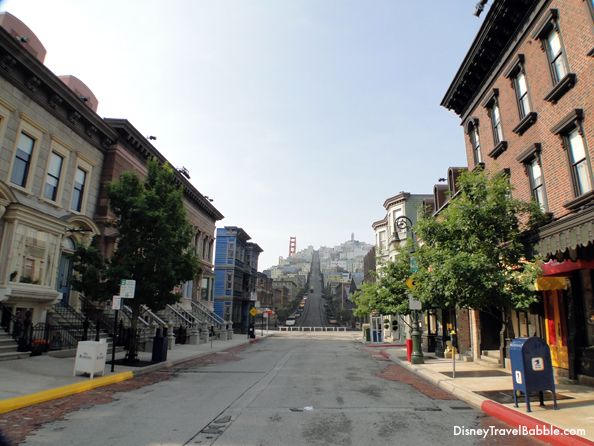 A buffet dinner with 70% seating for 150 guests has a venue fee of $3,000, which includes a tram and a modified version of the backlot tour. The food and beverage minimum is only $1,500, but an entertainment package including all of the aforementioned performers plus games and a DJ costs $15,400. Among the optional enhancements are spin art ($1,050), a caricature artist ($585), airbrush tattoo artists ($2,095) and a fortuneteller ($700).
Coast-to-Coast: Streets of America and Sunset Boulevard
For the generous corporation that wants to show its employees a good time, there's the Coast-to-Coast party, which offers guests dinner and attractions on the Streets of America, followed by dessert and more attractions on Sunset Boulevard. As guests arrive, a throng of photographers, screaming fans and autograph seekers herald them as celebrities. During the buffet dinner on New York Street, strolling Streetmosphere performers like cops, stage mothers and a "flim-flam man" entertain guests. Star Tours: The Adventures Continue and Muppet*Vision 3-D are open too, and a DJ provides the musical backdrop. About an hour and a half later, guests are escorted across the park to Sunset Boulevard for dessert. There they'll mingle with starlets, gossip columnists and a film director, dance to another DJ's playlist, and ride Rock 'n' Roller Coaster Starring Aerosmith and The Twilight Zone Tower of Terror as often as their constitutions allow.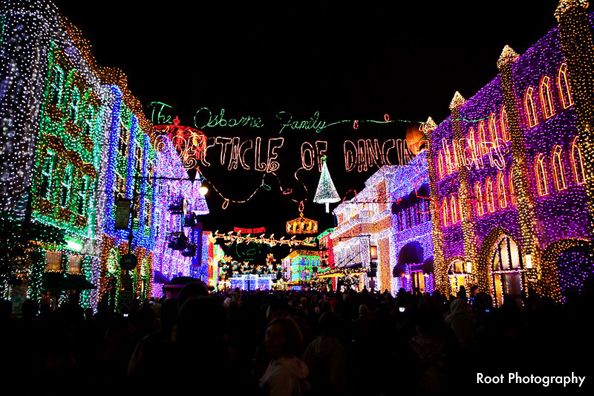 The Coast-to-Coast event is available for up to 2,000 guests with 60% seating. The venue fee for Streets of America and Sunset Boulevard is a flat $5,000 for both, but there are separate $10,000 food and beverage minimums for each location. The price of keeping all four attractions running is $20,000, and an entertainment package featuring two DJs, Streetmosphere performers, and the screaming fan entrance costs $29,030. The price for just the screaming fan entrance is $4,500, plus $850 if you want a photo station set up to capture each guest with the performers. A four-actor package of Streetmosphere performers costs $3,600, while an eight-actor package runs $5,100.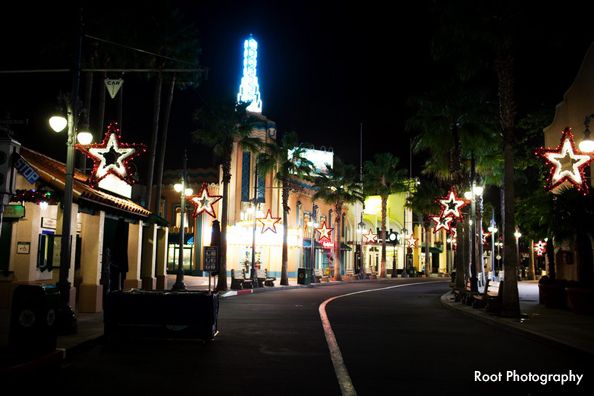 In addition to all the entertainment enhancements previously mentioned in this article, you can request a juggler ($815), two stilt walkers ($1,630), a face painter ($525), a balloon artist ($700) or the five-piece band Mulch, Sweat and Shears ($3,235). For another $4,900 you can dress up the transition between East Coast and West Coast with a mock power-outage, complete with blinking lights and flying sparks. Décor enhancements include a custom 20-foot logo burn (starting at $12,465) and customized banners for Sunset Boulevard ($760), New York Street ($1,260) and the subway fence ($600). Start saving your pennies now!
Carrie Hayward is the author of PassPorter's Disney Weddings & Honeymoons, a guidebook and bridal organizer for weddings and honeymoons at Walt Disney World and on the Disney Cruise Line. Follow her adventures in Disney parks around the world at http://disneytravelbabble.com.