I want to welcome Carrie Hayward as a special guest blogger for Studios Central. Carrie is THE private event guru and she knows an ungodly amount about private events, having personally experienced many of them. She blogs about them on her site, Disney Travel Babble, and she also co-hosts the Inside Disney Weddings podcast. And oh yea, she also is the author of PassPorter's Disney Weddings & Honeymoons. A big thank you to Carrie for taking the time to explore the many locations inside Disney's Hollywood Studios you can have a private event!
As the author of a guidebook to Disney's Fairy Tale Weddings, former Epcot bride, and serial planner of anniversary parties, I've had a chance to learn a lot about event planning at Walt Disney World. But what I didn't realize until recently is that Disney's Hollywood Studios is a trove of fabulous party locations!
I was on a tour of the park's wedding venues last fall when I began to see that virtually any area of Disney's Hollywood Studios could potentially be made into an event space. While Epcot has only its dedicated event venues, and the Magic Kingdom is off-limits to all but the largest corporate events, Disney's Hollywood Studios seems to be one giant event space waiting to be subdivided.
In this three-part series on private party venues at Disney's Hollywood Studios, I'll walk you through the park to look at some of the most popular spots, along with lesser-known venues and places that really should be venues if they aren't already. But before we begin our tour, let's cover a few event-planning basics.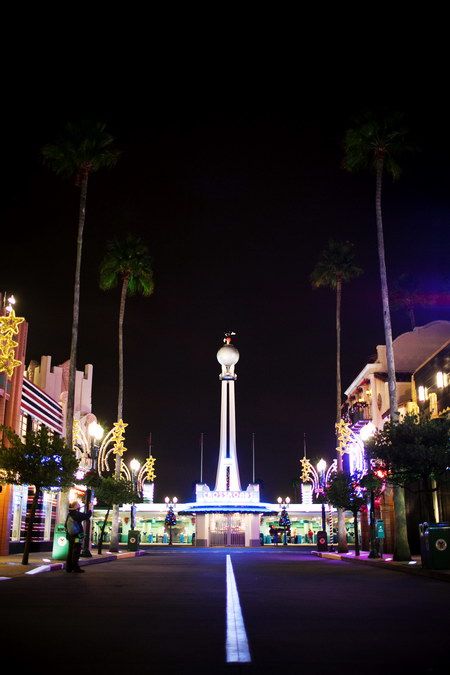 Fees & Requirements
With the exception of those held at a handful of venues, most private events cannot start until 90 minutes after the park closes. This allows time for the park to clear and for the event team to set up the site. Additionally, many venues require you to pay for transportation backstage, which starts at $25 one-way for a 4-person town car and goes all the way up to nearly $500 for a chartered 50-person motor coach.
Each event space has a venue fee, plus a minimum amount you must spend on food and beverages. For private events at Fantasmic! there is a $12.95/person viewing fee for guests who don't have park admission (events held after park hours do not require admission). There is a 21% service charge on the cost of food and beverages, and 6.5% sales tax is applied to everything except transportation, entertainment, photography/videography, and guides for the event—even the service charges get taxed!
If you want to keep one or more rides running during your event, there is an additional fee for each. These vary by attraction, but you can figure on anything from $3,000 to more than $17,000. A cheaper alternative is to do a ride mix-in—which gets your group escorted to the head of the line at an attraction—for about $15/person. The trick is that these can only be done during park operating hours, and most events take place after hours.
In this article, I've listed pricing information where I have it. Some of the locations I cover were only pointed out to me on my tour and require a custom quote from Disney. All information is subject to change at any time and seems to do so frequently. For example, since we held our party at Tower of Terror, it's been reported that park management has imposed a 20-guest minimum on all private events, despite the fact that many of their event spaces are listed as being available to groups of 10. However, I've seen rules like this come and go many times over the years, so I always encourage people to call up and find out what the policy is at the moment.
If you are interested in holding a private event at Disney's Hollywood Studios, contact Disney Catered Events at 321-939-7278. You will be assigned an event planner based on which Disney resort you will be staying at.
Sunset Boulevard
Perhaps the most glamorous place in all of Disney's Hollywood Studios, Sunset Boulevard offers a number of unique special-event venues—including the boulevard itself! (More on that in Part III.)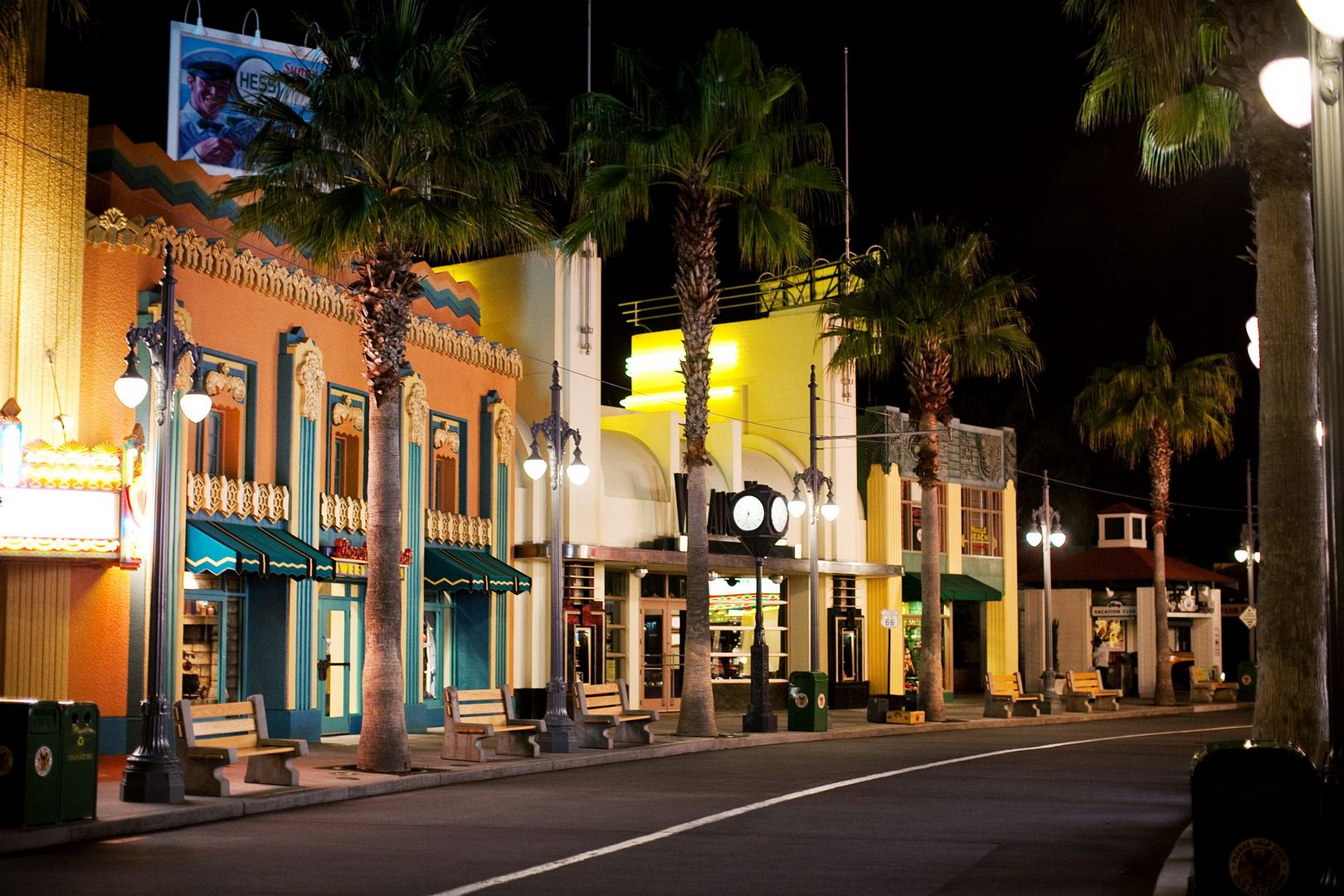 Tower of Terror Courtyard
One of the most iconic party settings in all of Disney's Hollywood Studios is the courtyard at the exit of The Twilight Zone Tower of Terror. Events here have a venue fee of $2,000 and a food and beverage minimum of $850. If you want to keep the ride running during your event, there is an additional charge of $6,500.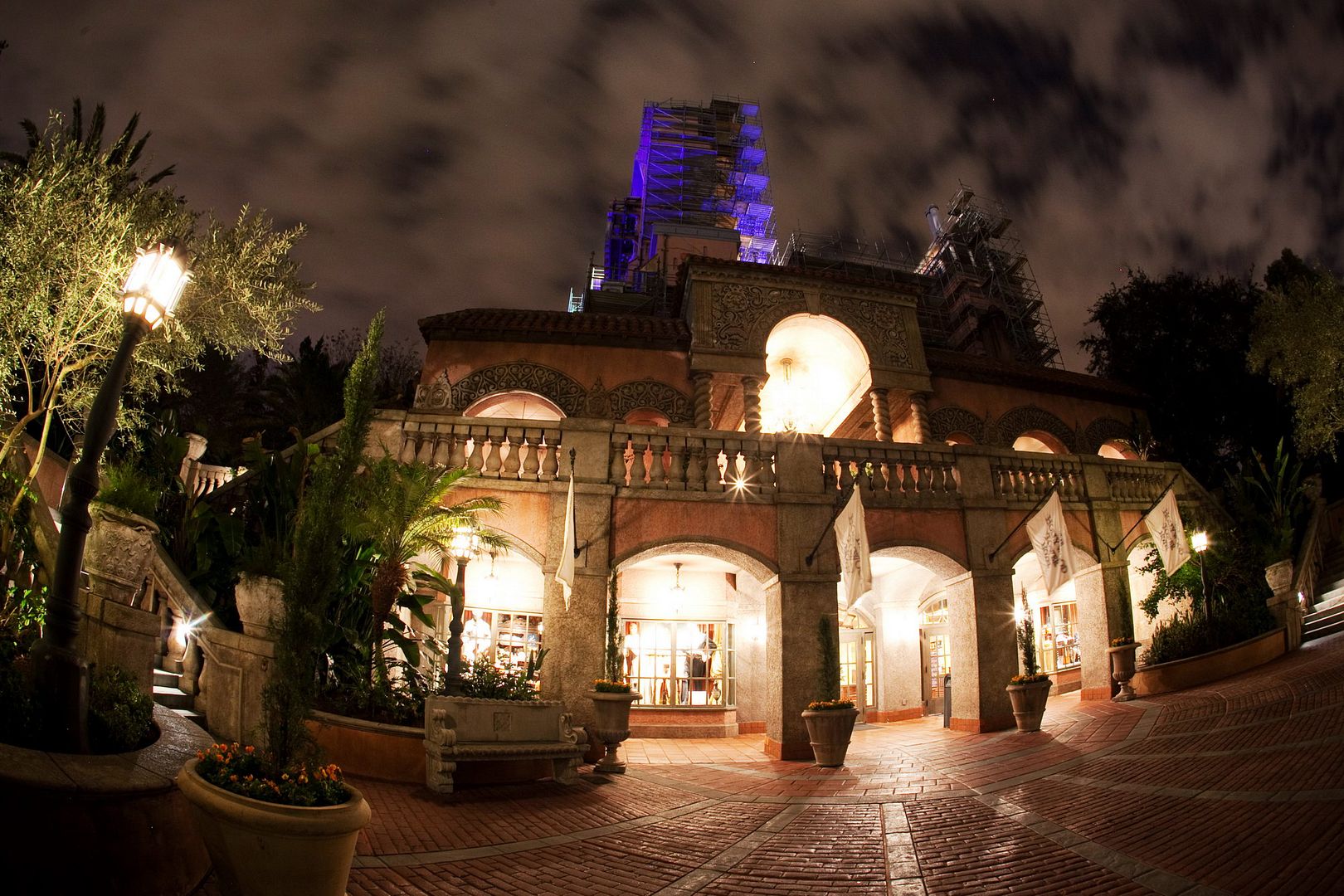 Tower of Terror Terrace
If Tower of Terror Courtyard is out of your price range and you have 10 people or fewer, the attraction's terrace is a lovely setting for an event. The venue fee is $500, and the food and beverage minimum is $45/person. Although we were originally told the event space was the far corner of the terrace, when we arrived we found our table set up right in front of the doors, which gave us a great view into the lobby.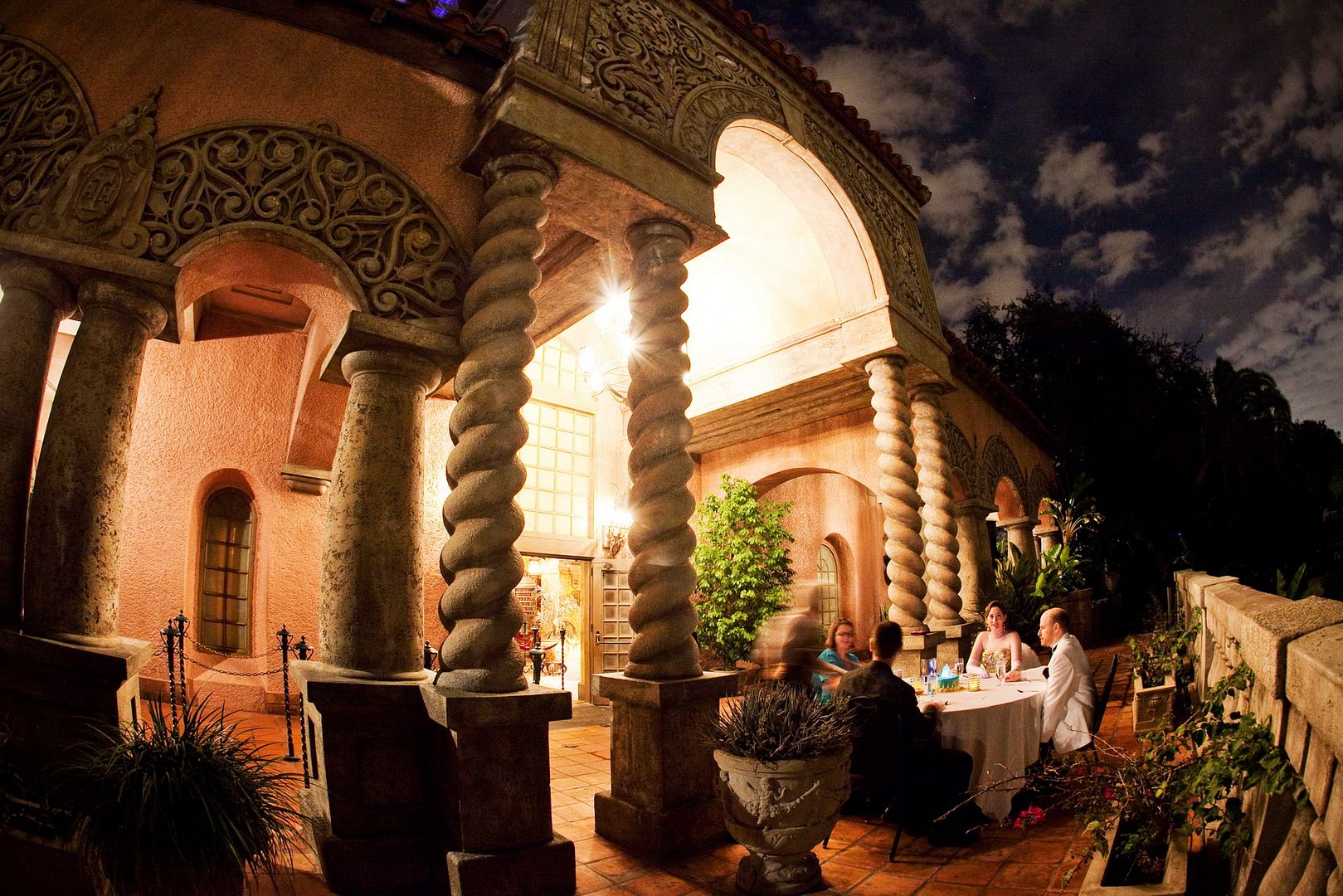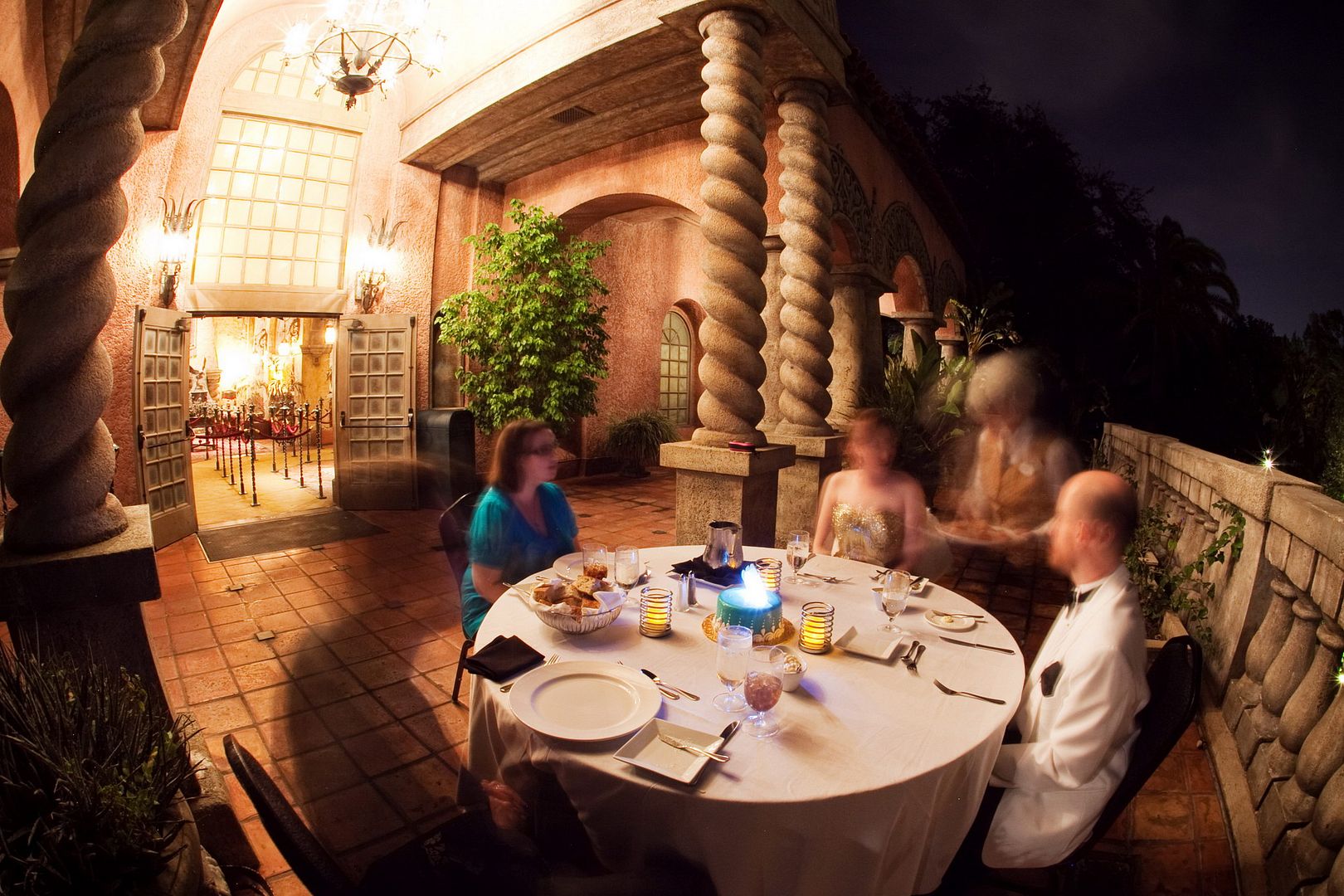 Hollywood Hills Amphitheater – Fantasmic!
There are a couple of ways to do events at Hollywood Hills Amphitheater. One is at the back of the theater during Fantasmic! Often these are dessert parties, but you can do a full meal too.
There are two patios to choose from. The small one holds up to 40 people, while the large one can hold 40 to 100. Each patio has a $250 venue rental fee and a $750 food and beverage minimum; using both patios means double the cost. There is also a $75 setup fee and a $12.95 viewing fee for each guest who doesn't have park admission. Fantasmic! parties are among the few private events you can hold during park operating hours.
SMALL PATIO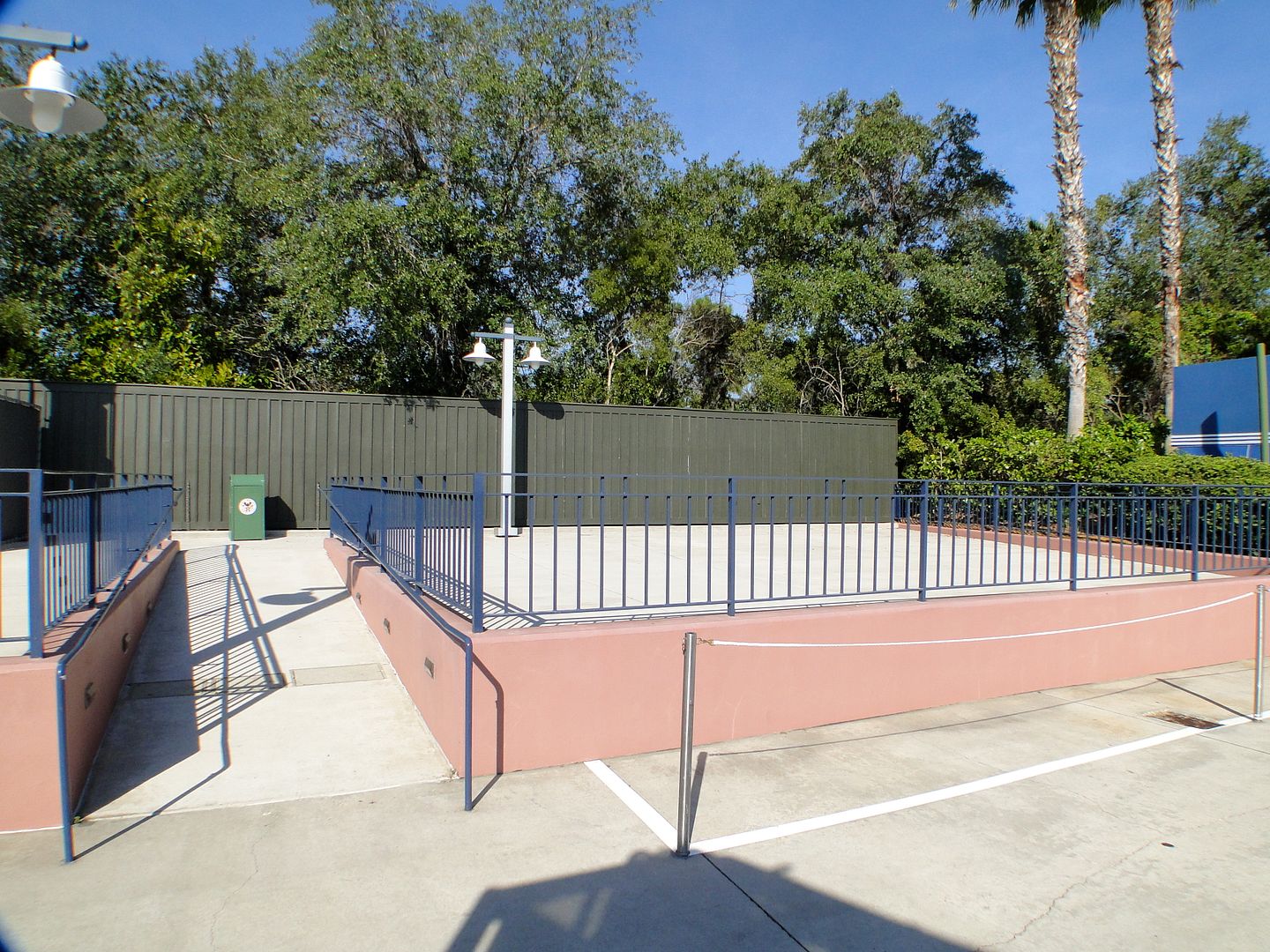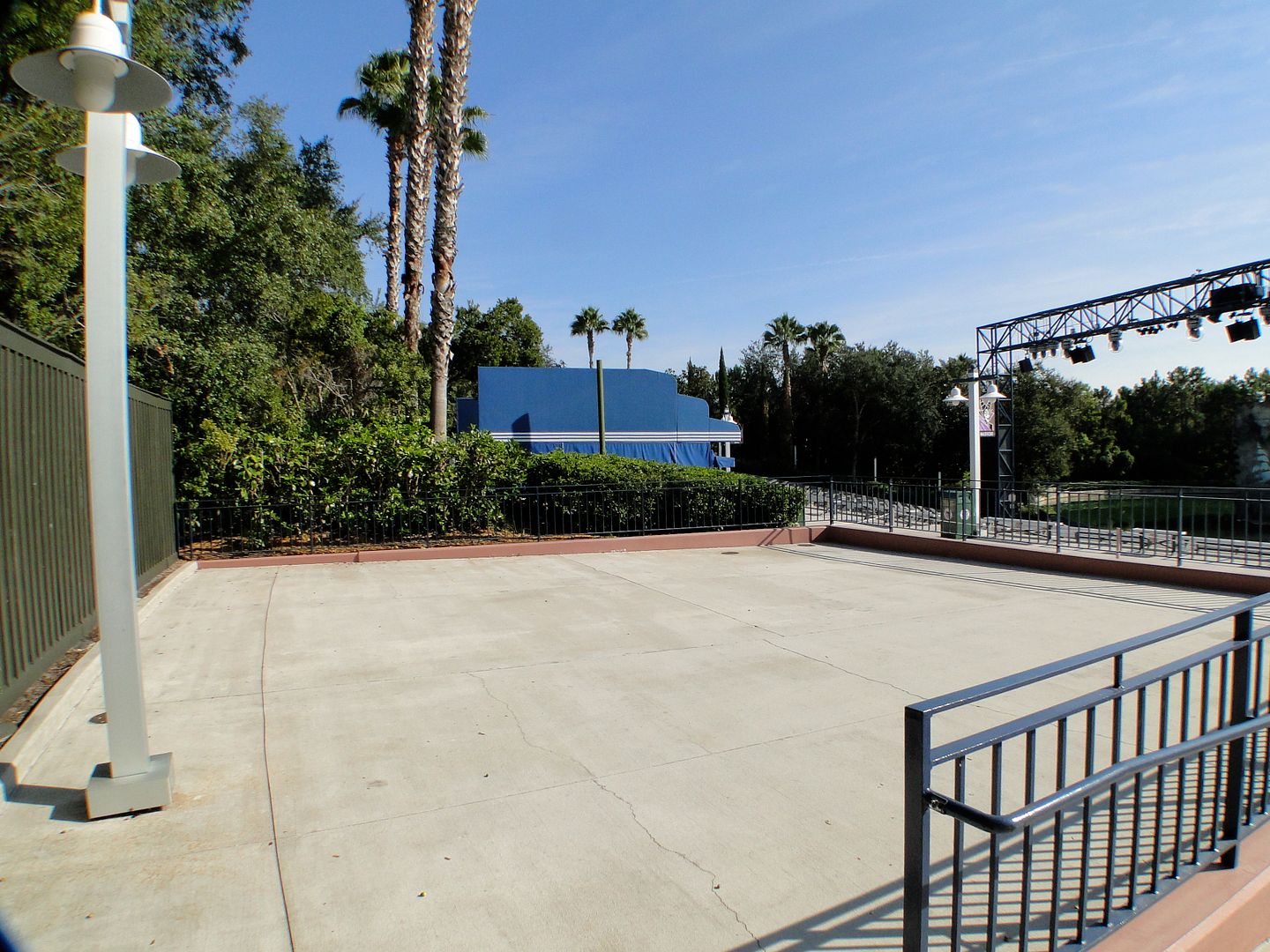 LARGE PATIO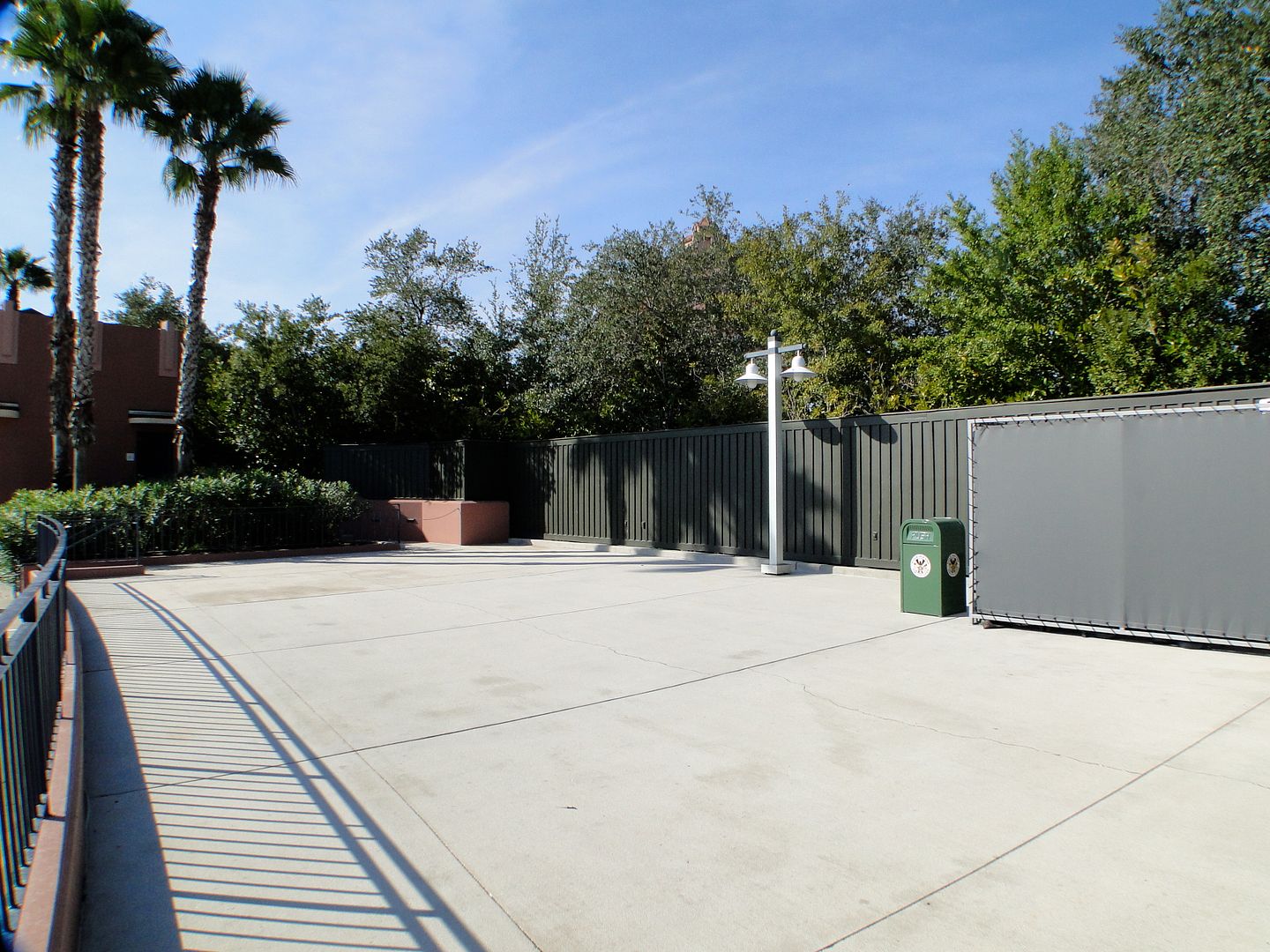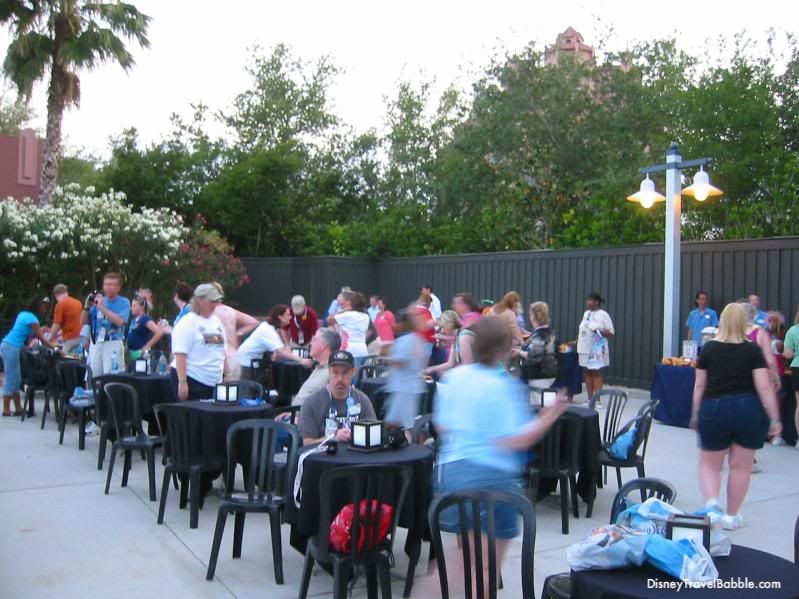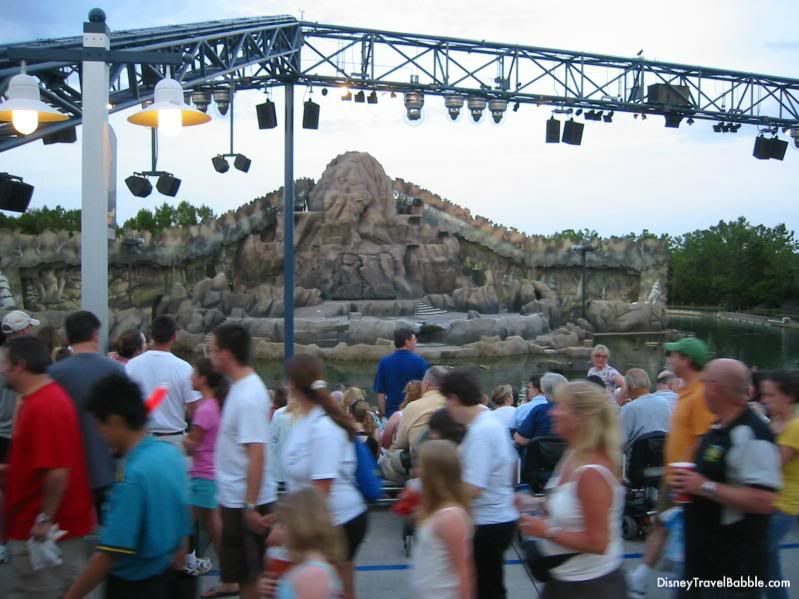 Another place where you can hold an event in Hollywood Hills Amphitheater is in the tree-lined walkway, after the park closes. While this doesn't sound like a particularly glamorous place for a party, it does have a nice view of Tower of Terror and plenty of room for a dance floor.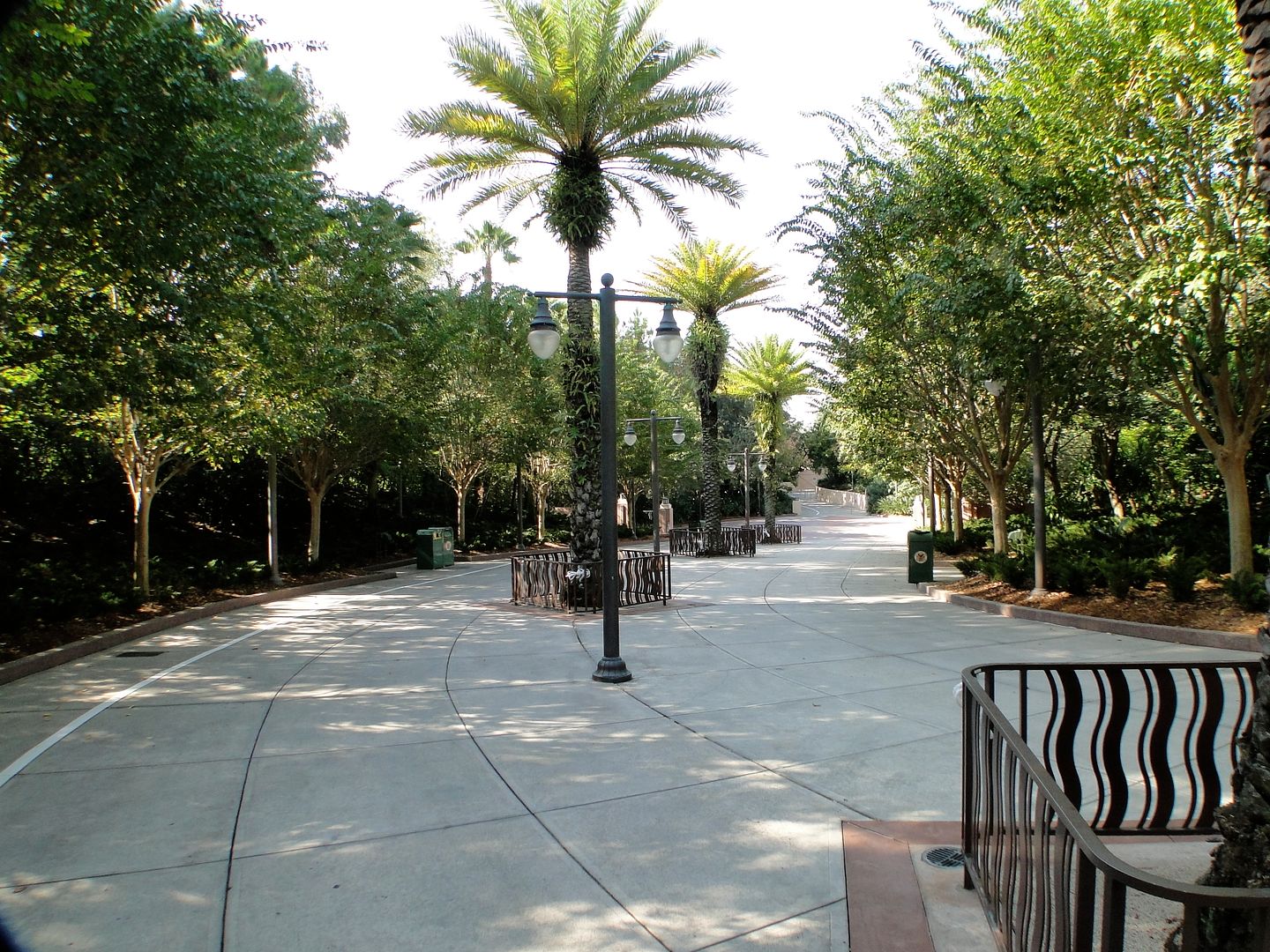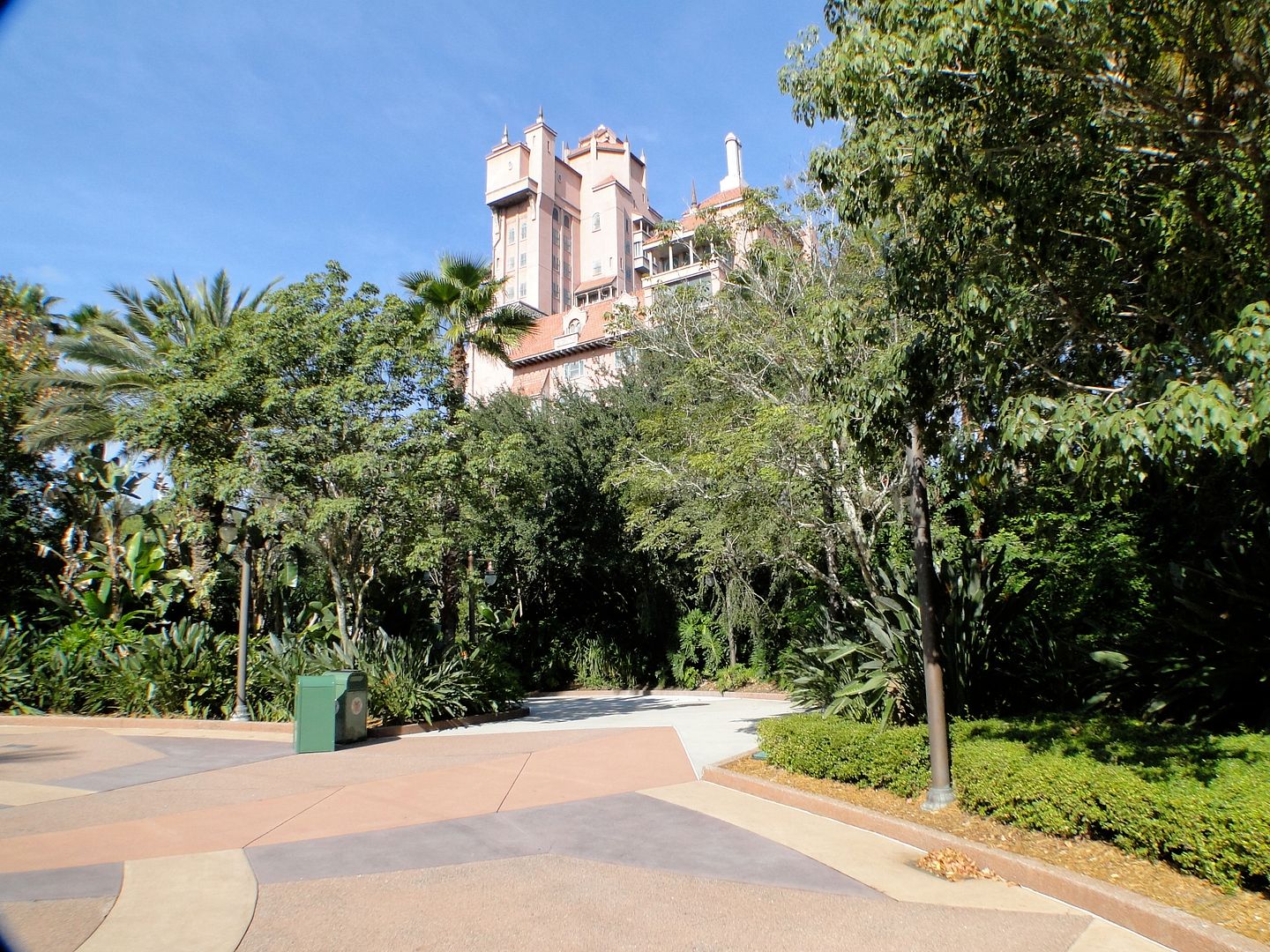 Theater of the Stars – Beauty & The Beast
Disney has designed a special event concept for Theater of the Stars called the Be Our Guest Dinner. The evening starts with passed hors d'oeuvres and drinks in the courtyard at the back of the theater.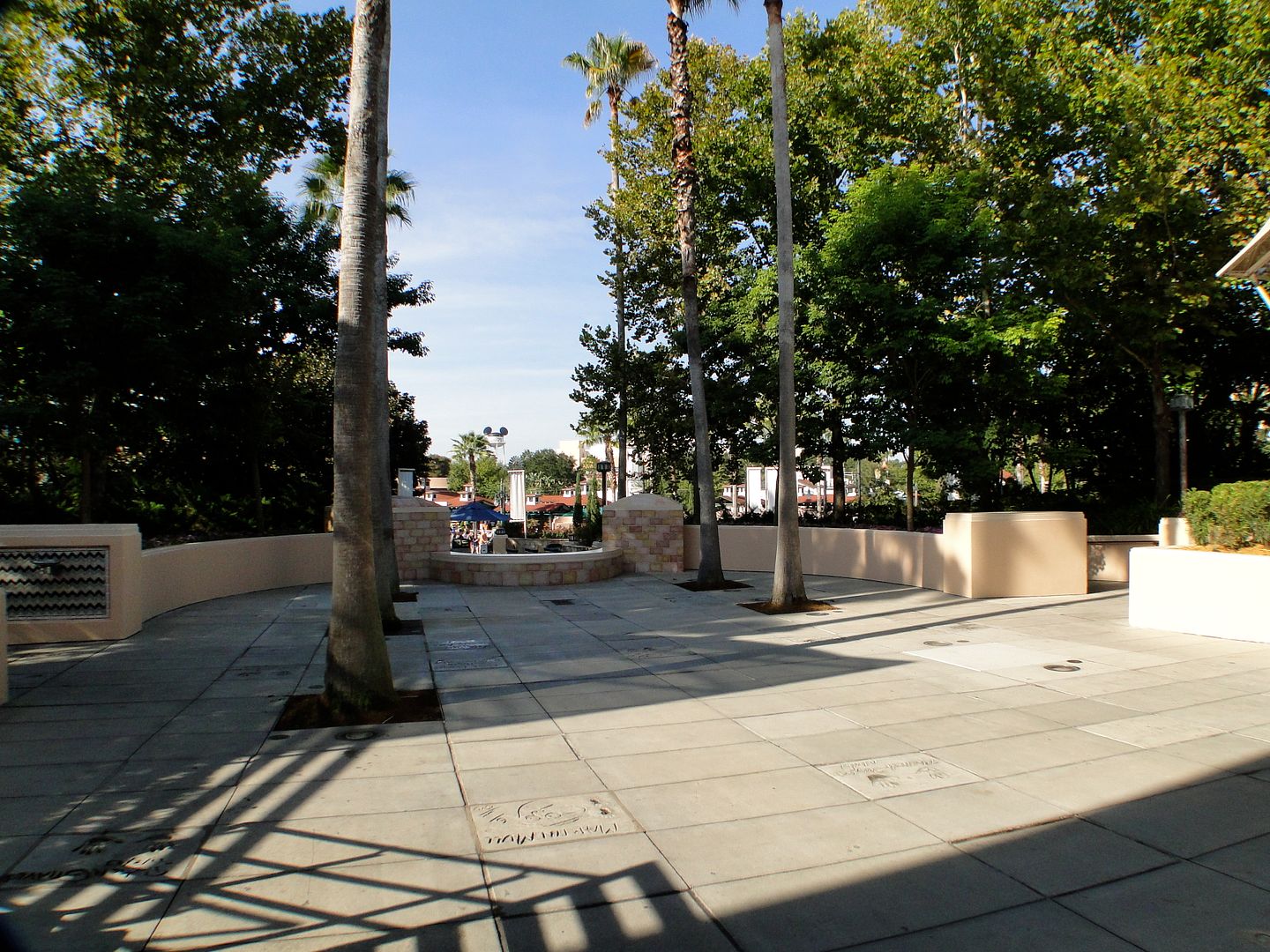 Eventually Mrs. Potts and Chip appear and welcome guests to the event from the stage. Then the curtain rises to reveal that dinner will be served on the set of "Beauty and the Beast – Live on Stage." Cogsworth and Lumiere also make an appearance as guests take their seats and a plated meal is served. During dinner, Belle and the Beast make their way to each table to thank everyone for coming. At the end of the night, all the characters assemble to bid guests farewell.
The Be Our Guest Dinner is available for up to 50 guests. There is a $1,000 venue fee and a $4,000 food and beverage minimum. The $10,395 entertainment package includes all six Disney characters, plus a major domo and a pianist.
Rock 'n' Roller Coaster Starring Aerosmith Courtyard
Events here have a venue fee of $2,000 and a food and beverage minimum of $1,500. Capacity is 10 to 300 people. If you want to keep the ride running during your event, there is an additional charge of $6,500. Disney also recommends a Theme Park Dance Party Package ($6,300) for groups of more than 100.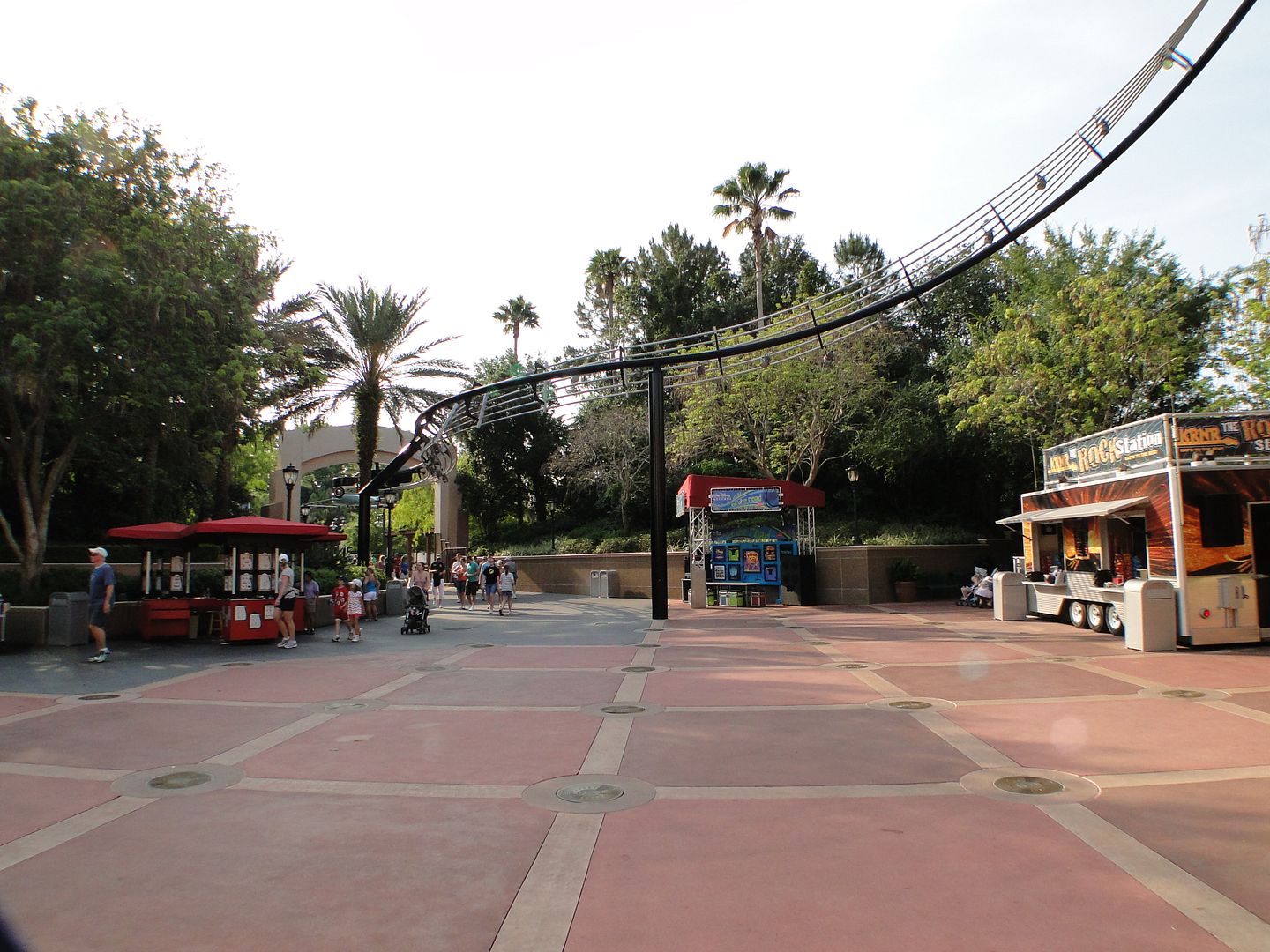 Coming up in Part II, we'll look at Hollywood Boulevard, Animation Courtyard, Mickey Avenue and Pixar Place.
Carrie Hayward is the author of PassPorter's Disney Weddings & Honeymoons, a guidebook and bridal organizer for weddings and honeymoons at Walt Disney World and on the Disney Cruise Line. Follow her adventures in Disney parks around the world at http://disneytravelbabble.com.